Sennheiser CX-Sport Earbuds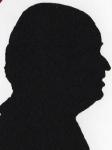 This is the second offering from Sennheiser that I have seen in the 'sports earbuds' category. Being wireless means that it matters not how much vigorous exercise you do as the only connection is between the two buds whatever position the rest of your body contorts to the earbuds stay firmly rooted to your ears.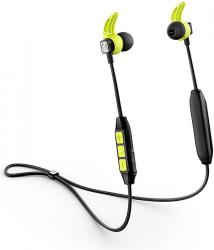 click image to enlarge
These are what are called 'Fin type' buds in that the fin goes inside the outer part of the ear taking the strain off the bud itself which plugs into the main cavity of the ear.
Perhaps the most important thing with earbuds is that you use the correct size and for that purpose there are four different sizes of buds in the box.
It is important not to stuff the buds into the ear - not only for comfort – but also for clarity of sound. They must fit the ear otherwise after as little as say half an hour of use your ear will swell and they become uncomfortable and rather like an ill-fitting shoe you are thinking of the shoe and not of other things.
Here however with the pressure being removed from the bud by the three different sizes of 'Fin' provided you first thing to get right is the size of Fin so it holds steady in the outer ear so that the bud itself can sit comfortably in the ear.
So as the box says 'Ear fins and cable organiser for comfort and convenience' the cable is designed to go behind the neck which means unlike a lot of other earbuds the controls are on the right side.
The buds themselves are stated to run for six hours and in my tests this figure was achieved easily in fact on one occasion I got close to eight hours, mind you my activity level is perhaps less than optimum and so volume levels were never near maximum.
The buds and cables are black with the Fins and buttons on the control box being yellow.
The box contains four sets of buds XS-S-M-L, fins in S-M-L a USB charging cable, shirt cable clip and storage pouch.
I tried these with Bluetooth from three separate sources and all connected without problem, anyone running will probably have their SmartPhone either in a pocket or nearby so reception distance is never going to be a problem, in the home I got a couple of rooms away without drop off of signal.
The buds are not water proof so probably take them off before showering but they are stated to be sweat and splash proof.
There is a quick charge mode that states one hour play after ten minutes of charging and this did work.
Buds are never going to have the sound range of a decent set of headphones – what Sennheiser are best known for – or speakers but I tested them with the full range of music styles and various speech as I know there are a lot of motivation courses out there to push people while out running and training so you need to be able to hear your torturers – sorry trainers – voice.
These earbuds stayed in place and were reasonably comfortable even after a couple of hours.
The Sennheiser CX Sport In-Ear Wireless are available from Amazon for £109.99 or direct from Sennheiser for £119.