Philips 272B7QU QHD monitor

Review controls
The Philips monitor 272B7QU is a high-end QHD 2560 x 1440 display that offers, in addition to high performance, good ergonomics and a built-in docking station.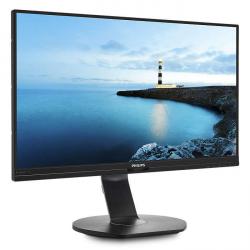 click image to enlarge
Even as one unpacks it, the first thing that one notices about this monitor is its weight. At over 7kg, it is roughly twice the weight of many other 27 inch monitors. This is no doubt due, at least in part, to it being able to deliver up to 60W to external devices via its USB 3.1 ports.
This 27inch screen, which forms part of the Philips "B" line is mounted on a spring-counterbalanced stand on a turntable base. This enables it to be set at any convenient height with the lower edge of the screen anywhere between 6cm from the desk up to 21cm as well as tilted both forwards and backwards. Those who need could alternatively use the 10cm VESA mounting facility.
The narrow black bezel minimises the amount of real estate that the unit takes up on the desk which is of growing importance with the trend towards multiple displays. Here, the DisplayPort 1.2 connectivity option enables them to be daisy-chained. Other connectors on the rear include HDMI 1.4, Ethernet and the USB hub which has a USB-C upstream port and three USB 3.1 downstream with fast charging.
The higher resolution, as compared to the more usual 1920 x 1080 screen, is very apparent when using a spreadsheet where, in the default settings, 59 vs 41 rows and the commensurate number of columns respectively can be displayed. Philips claims that the UltraWide-Color Technology that is employed in this monitor delivers a wider spectrum of colours for a more brilliant picture and also produces more natural-looking greens, vivid reds and deeper blues. While I was unable to measure this I found that the higher resolution and the range of colours displayed are also of major benefit when viewing pictures as previously unnoticed details become visible. Furthermore, as can be expected from IPS screen technology, there is very wide viewing angle.
The controls for the OnScreen Display are arranged conveniently under the RH end of the bottom bezel. In addition to being able to use the OSD to make a range of colour adjustments including colour temperature, sRGB as well as being able to adjust R, G & B individually there is also the Philip's SmartImage option. Also accessed via the OSD it provides a number of pre-sets which are aimed at optimising the display for the different types of content. These are: EasyRead, office, Photo, Movie, Game, Economy, Low Blue Mode and Off. The differences between modes was always apparent so one could easily see the benefit of choosing the mode that was appropriate to the work in hand.
In addition, there is a "Low Blue" setting to take into account the eye damage and can effect vision over time that can apparently be caused by shortwave-length blue light rays from LED displays.
The built-in USB hub is very convenient for reducing cable clutter by connecting keyboard and mouse. However, to comply with international energy standards, by default, the USB function is disabled when in Sleep or power Off modes. Although this can easily be changed, it is disconcerting at first -- particularly if one intended to use the fast-charging feature and found that charging ceased when the monitor was inactive. (With USB "Power Delivery" the start-up default is 5V/2A but the connected device can negotiate up to 20V/3A i.e. 60W.)
In taking a responsible attitude with regard to the environment Philips claims that the monitor employs 85% post-consumer recycled plastics. In addition, it has a Power Sensor mode which, when invoked, its IR sensor detects when the user has moved away from their desk and then, initially, dims the screen and then blanks it so providing useful degree of power saving.
Having a list price of £399 this Philips monitor has the performance and a useful range of facilities that will benefit the business user who must spend hours sitting in front of the screen. These include the built-in USB hub and the stand which enables the screen to be set at the optimum position for comfortable use.