Philips 222B9T touch-screen monitor

The Philips 222B9T 21.5 inch 1920 x1080 touch screen monitor with its 16:9 aspect ratio has been built to the IP54 environmental standard for dust and water protection so it can be used in more arduous situations for point-of-sale (PoS), information kiosks or workshop applications rather than just in the office.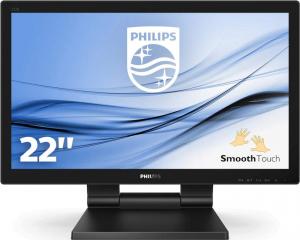 click image to enlarge
It is a robustly built unit weighing in at 7.5kg with its "Z" shaped stand which enables the screen to be moved all the way from a normal viewing angle to a horizontal position where it can be raised and lowered over the range of 10 to 27cm. This provides a great deal of flexibility in enabling it to be set at the most appropriate angle and position for whatever is the task in hand. Alternatively the supplied stand can be removed and a VESA-compliant stand attached in its place.
The unit with its anti-glare coating employs a TN panel and is 51.5cm wide. In comparison with what we have come to expect with normal office monitors, the black bezel is rather wide at 25mm on the lower edge and 20mm on remaining three sides. This, no doubt, is due to the space taken up by the "SmoothTouch" projective capacitance 10-point touch technology. This could, for example, enable touch-typing with all ten fingers.
In addition to the VGA, DVI-D, DisplayPort 1.2 and HDMI 1.4 video connections there is also USB 3.1. This latter connection to the PC is needed to enable the touch screen feature while, of the two output ports provided, one is fast charging. A clip-on cover over all the connections provides a degree of splash-proofing and so forms part of the environmental protection.
The controls for the on-screen display (OSD) are under the RH lower edge of the bezel with their labels clearly visible on the bezel itself and it is easy to navigate through the various OSD options. Many of these are the standard ones for luminescence, image setup and colour setup so that, for example, one can set up Red, Green and Blue colours separately as well as there being Warm/Normal/Cool/sRGB/User colour temperature settings. One of the other options is the LowBlue mode which reduces the amount of light at the blue end of the spectrum which is claimed to be harmful to the eye.
For everyday use, however, it is simpler to use SmartImage where there is a choice of options: EasyRead, Office, Photo, Movie, Game, Economy, LowBlue Mode which can be selected dependent on the type of work currently in hand.
Although the 222B9T is supplied with a capacitive stylus, and it will work equally well with any other similar stylus, it is also sensitive to finger touch for a wide range of gestures such as swipe, pinch and tap etc. even though it must be borne in mind that it is far more difficult to be precise in operation with a finger rather than a stylus. By the way, there is a warning that one should not touch the screen with sharp objects as it may result in damage.
Overall, the importance of this monitor rests with its touch-screen facility which has a wide range of specialist applications. Its environmental protection allows it to be used for a variety of tasks in an industrial or commercial environment away from the office. Even though recent versions of the Windows operating system support touch-screen operation, and I understand that MS Office also supports it (even though I have no experience of this as I use the popular OpenOffice suite), a great many applications are built around specialist software.
As can be appreciated the touch screen and the environment protection set the 222B9T apart from the normal run of monitors and so it is aimed at a specialist target market even though there is growing interest in touch screen operation. In view of this, and the fact that it has a wide range of connectivity and is unlikely to sell in massive quantities its RRP of £239 does not seem unreasonable entry price into this important technology.