Panasonic Toughbook CF-XZ6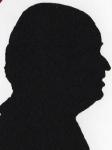 This Toughbook looks 'normal' which while it may sound like a criticism, it isn't, some Toughbook's are very rugged as they are used on building sites and other places where they get abused, here one that would not look out of place in a boardroom.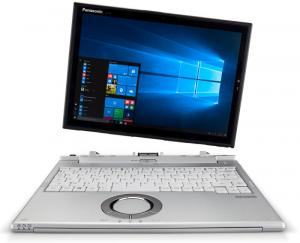 click image to enlarge
I first saw this over four months ago at a pre-launch briefing at Panasonics factory in Cardiff.
The Panasonic Toughbook CF-XZ6 measures 28.5x22x2cm and weights 1.2kilos. The viewable screen is 25.5x17cm and it has the notional diagonal imperial screen measurement of 12inches and a screen resolution of 2160x1440 which never looks small even on the smaller than normal screen. There is a 2MP web cam and microphone in the centre at the top of the landscape screen.
This is not only a rather nice responsive Notebook but the screen detaches and it can be used as a Tablet and as such it weighs just 648grams.
This unit has two batteries battery one is in the keyboard base and battery two is in the screen, so when used as a Tablet the battery life is halved.
By default in Notebook mode the battery in the base (battery one) will be used alone until it gets to 10% left and in tandem until it reaches 5% left when battery two takes over completely.
Charging of both batteries takes 150 minutes, streaming full screen video I got 13 hours before it started complaining and automatically implementing 'Battery Saving' technology.
In Notebook mode the screen goes back to 135 degrees, when you undock using a flip switch at the rear of the keyboard it will ask if you want to switch to Tablet mode, even in Notebook mode the onscreen keyboard is still usable from the tray. When you re-dock you know it's properly docked by a red marker disappearing.
As a Notebook you have an 85 key responsive keyboard with the alpha keys being full size. There is 1cm clearance either side and close to 4cm clear behind the keyboard with only the screen release mechanism in that area. There is a 9cm strip in front of the keyboard with the novel 7cm circular trackpad mounted 8.5cm from the left and 12.5cm from the right.
On the left side of the matt black Tablet part at the rear is a 3.5mm socket for headphones. On the right side from the rear are a Kensington Lock Port, a USB 'C', a silvered volume control rocker and the also silvered the on/off button.
On the matt silver part the left side has DC input, an SD Card socket and two USB3 ports. At the front close to the left edge are three pin hole LED's for power and battery state for each battery. The right side from back forward are Ethernet, VGA, HDMI and USB3.
The base has two tiny sloping feet at the rear corners to give a little rake to the keyboard when used in Notebook mode, the front has two tiny circular pimples to stop any rubbing on smart desks.
There is also a rear facing camera for use in Tablet mode and this is 8MP.
Panasonic are one of the few companies that supply Windows 10 Pro (64bit) rather than the Home version.
You get a seventh generation Intel i5 Processor, 8GB RAM and a 256GB SSD.
While this unit is not 'ruggedized' it has been certified to pass a 76cm drop test.
Having touch is nice for a Windows 10 Notebook but this feature is essential for a Tablet.
The Panasonic Toughbook CF-XZ6 is available from Barcode Warehouse for £2087.99 with next day delivery.