Panasonic Headphones from reichelt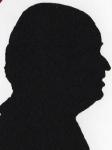 The claim from reichelt is that they sell up to '20% cheaper than others' in the case of this item I see they sell it for £15 and I found another outlet at £24.80 so they certainly exceeded their claim by some way with this item manufactured by Panasonic.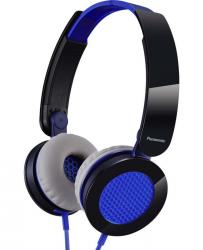 click image to enlarge
So what of these on ear corded headphones that bear the Panasonic name.
There are hard wired leads that run from the base of each headphone that are clipped together are 40cm and then run the next 80cm side by side to the L shaped 3.5mm plug.
The headphones are Black and Blue with a white covering for the earpieces. The headphones break on the top of the head to allow them to reduce in size for transportation, the earpieces also rotate through 180degrees to also reduce the size. So the size can be as little as 15.5x10x6.5cm and the total weight is 159grams.
There is 4cm of movement in the sides to accommodate most head sizes I could wear them with no expansion – although it was more comfortable with around 1cm of expansion on each side – so a child might struggle.
I would suggest those like me who are foliclly challenged steer clear of these as there is no padding on the inside of the headband so unless you wear them on the back of the neck they could chafe.
Now onto sound quality which was good especially as these have obviously been manufactured to a price so the 30mm drivers worked well and gave a reasonable amount of bass.
All the quality has gone into the sound and not the look.
For me anyway that is all that matters, I listened to output through these headphones far longer than was required to complete this review.
As always I listen to the whole range of Genres just to be sure there is not a weakness, some such as Opera I dislike with a passion others like Classical I can tolerate, pop is not my favourite but as regular readers will know Jazz especially small groups is my passion.
You can hear tiny noises through headphones that even with brilliant audio equipment and decent speakers just cannot be heard like a tiny aside from one musician to another especially in a live recording.
Although most of my tests on headphones, earbuds and speakers is done with a specially compiled set of files once this is completed I move on and with a set of headphones with decent drivers like these I can hear more so much more.
So these will never be a fashion accessory and even I would never have tried them but for the 'up to 20% cheaper claim by reichelt and indeed they seem to have found an RRP of £61 which seems irrelevant as I thought RRP was a thing of the past, however I am sure other outlets will be selling them at prices far closer to the £15 but in retail the only person likely to buy these for their looks would be a blind man. However if people get as far as listening to the output then I can see them selling. They are advertised at £12.82 + VAT which I make £15.38.
https://www.reichelt.com/PAN-RP-HXS200E-A/3/index.html?ARTICLE=158209