Nu Force BE-6i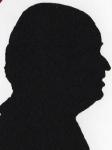 These are a pair of quality in ear earbuds. The only lead is the small flat one connecting the two buds, a short distance from the left earbud is the in lead box that charges the buds and also moves through your tracks etc. on whatever device you connect them to.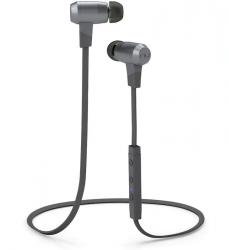 click image to enlarge
The connection is of course Bluetooth and my recent Android phone found the BE-6i almost instantly and made the required connection.
The total length from one earbud to the other is 60cm, 8cm from the left earbud is the 5cm long three button block marked with + play and –, the cord is flat and grey the block is grey and the markings are grey on grey so you have to move them against the light to see which button does what if the backs of the two buds get within 2cm of each other they click together which may or may not be what you want. The reverse of the block has a pin hole microphone that should convince anyone nearby that you should be locked up as it enables you to carry on conversations via your SmartPhone without a phone being in sight or any cord disappearing into a pocket and if you are one who makes gestures with free hands – yes both hands are free – you can see what I mean.
Also in the box is a hard sided zip up carry case to transport your buds. When you first open it be careful as it contains two pairs of premium isolation buds in large and medium sizes. There are also two other small plastic bags with a range of buds in different sizes.
A full charge takes around 90 mins and lasts for 8 hours and 20 mins continuous play during the last half hour the flashing blue LED becomes a red LED and a female voice says battery low every five minutes. It is unlikely you will see the LED being so near to the earbuds as it resides under your chin.
There are two booklets the thicker one is a multi-language safety instruction guide. The other a total of twelve sides made up of illustrations showing what does what on the block.
On one side of the block is a flip open section that you fit the provided flat 20cm long micro USB into to charge the buds, the other end of the cable is a standard USB connector that can fit into a port on a PC or into USB port on a standard electric outlet.
The side of the box does show the different types and sizes of buds supplied.
I was perfectly happy with the sound quality and I tested it with a range of music styles from my carefully gathered set of files including things like opera that I dislike and also a range of spoken voice both male and female as well as a good range of jazz that regular readers will know is my music of choice.
There was good stereo separation and even hard to discern female voices had clarity.
I left my phone on my desk and moved a couple of rooms – solid walls – away before the signal started to breakup. Most people's phones never get further away from them than their desk.
I liked the buds and the ease of linking to my Smartphone was a big plus. Of course on subsequent occasions just start your music and the buds start receiving with no additional pairing required. Notifications and calls are heard in the normal way.
The Nu Force BE6i are available for £100.