Monster Elements OverEar Headphones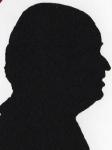 Monster might be a brand name but these are large over ear headphones and even when fully compressed I feel they are a little loose and no one has ever told me I have a small head so these are certainly not the headphones for a child.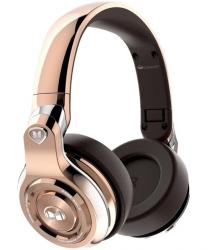 click image to enlarge
From a point mid-way between the parallel earpieces to the base of the well-padded headband is 19cm and that is the same distance between the earpieces. The headphones are not light as they weigh 357grams.
These are corded and or Bluetooth headphones.
The indication as to which ear is in the inside of the ear pad with 'L' and 'R' in the respective pads.
The base of the left earpad has connection for the 3.5mm cord while the right earpad has connection for micro USB lead for charging with a red light showing while charging is taking place, also on this earpad is the on/off button, between the two is the pin hole microphone.
When you first remove the headphones from the box the right earpad has a paper sleeve detailing all the indications as to what can be achieved from the buttons and the so far unmentioned swipe control on the side of the earpad this is multifunctional. Swipe it up to increase volume and down to decrease volume, other controls are 'tap' play/pause one tap, answer or end call one tap, accept call waiting one tap, track forward two taps and track back three taps.
My unit was what is called rose gold, just above the earpads the headphones break in on themselves to reduce size for carrying.
A zip up carry case is provided for transportation also in the box are a rubberised micro USB to micro USB cable of 1.2metres and a micro USB to full size USB adapter as well as a 1.35metre long 3.5mm to 'L' shaped 3.5mm lead with a control box 10cm from the straight 3.5mm connector, this is also a rubberised coated quality cable. Finally a nine language A5 manual which has the first six pages in English.
I paired this unit with a notebook computer and also a SmartPhone both without any problem, the listening range was about average for my solid walled property but far better outside but not many people I know are going to let their phone or notebook out of their sight.
I also run a whole range of sound tests with a selected batch of files which I keep on an MP3 player these are all Genres of music and also contain speech from a range of male and female voices.
I found these headphones reproduced all these files as I would expect without the over enhanced bass sound often given to some headphones and earbuds.
Regular readers will know my preference is for on ear rather than over ear an my ears tend to sweat when completely covered but that is personal preference.
These gave a good all round range of sound and did of course deaden external noise great for a DJ but rather dangerous if walking along a road.
I see the battery is stated to last 24 hours between charges but as my review period was limited I never got to exhausting it. Doing some calculations I used it between 16-17 hours without any signs of needing a recharge.
The Monster Rose Gold Elements are available from the link below for 349 euros.
https://www.monsterproducts.eu/product/elements-over-ear-bluetooth-headphones