HP Envy Laptop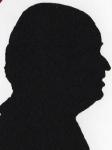 It's taken a while, 18 months in fact from change of agency to the first arrival of an HP notebook. Its thin its light and it has connectivity so what is not to like about this 13inch offering called very appropriately by the name of ENVY.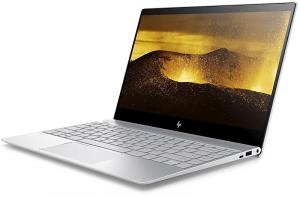 click image to enlarge
The HP Envy 13-ad015 laptop measures 30.5x21x1.5cm and weighs 1359 grams. It is matt silver grey in colour with four silver lines of two lengths that form a very clever HP logo.
The left side has a USB port, 3.5mm headphone socket, USB 'C' port and micro SD card port. The front is clear the right side has USB 'C' port, USB port and charging port.
Open the lid and the screen can go back to 135 degrees. Another sign of quality is that although the screen and surround are shiny they do not show a huge amount of finger marks. The surround is .5cm either side, 1cm at the top and 2cm at the base. The viewable screen is 29.3x16.4cm which gives the notional diagonal imperial measurement of 13inches, the screen resolution is 1920x1080 and it does not look cramped of small and everything is pin sharp, the screen is of course full touch.
The processor is an Intel i7-7500U running at 2.7GHz. Bootup is 12 seconds and shutdown to blank desktop is 2 seconds.
It comes with 8GB of RAM and after some updating by me now has the latest version of Windows 10 Home (64bit) v1803. Unlike most small and light notebooks that seem to have 256GB SSD drives this has that little bit more at 335GB with 13GB being a recovery section so after the normal calculations the 'C' drive has around 45GB used giving around 277GB available.
The area behind the keyboard is occupied by Bang & Olufsen speakers and the on/off button. The 83 key keyboard has all the alpha and numeric keys full size.
It takes around 90 minutes from total discharged state to a full battery using the conventional two part power lead and charging brick.
At this point I try to balance things - there must be some minus points - well apart from the lack of an optical drive which most do not any longer require and few laptops or notebooks still have I am struggling to find any minus points if you require an optical drive you can use an external USB one. My normal full back for excellent items is the price and while this is not cheap it's not that expensive either.
So back to the plus points you get 25GB free Dropbox account for one year if you are a new user. Other items I noticed are Sketchbook and Dolby Atmos the latter is great for movies.
This was a joy to review and even the hours of being nearby while it was updated were not unpleasant as I did that rare thing 'multitasked'.
So while the price stops it getting the highest accolade a 5x5 award it is certainly well worth a 'highly commended' and I also look forward to whatever I may get offered next from HP.
The HP Envy 13-ad015 is available from Amazon for £1,099.99