HP Chromebook 14 G3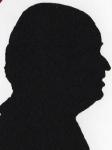 If you want a PC to browse the Internet and to send a receive Emails there is an option that can avoid Windows. It is a Chromebook. This rather nice offering is from HP and unlike the very early Chromebooks you can still work offline.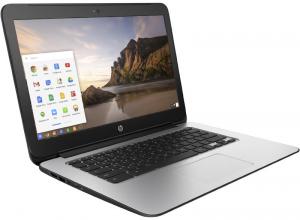 click image to enlarge
The HP Chromebook 14 G3 measures 34x23.5x2cm and weighs 1605grams. The viewable screen is 31x17.5cm which gives the notional diagonal imperial measurement of 14inches. The screen resolution is 1920x1080.
It took me a while to get used to the turquoise blue colour of the screen and keyboard surrounds but this does not show fingermarks. The case back is white as is the keyboard. Chrome keyboards have always shown characters in lower case not a problem just different.
In heavy use I got 7½ hours between battery charges, and a full recharge took less than 2 hours. Start time is only 6 seconds and shutdown near instantaneous.
When it arrived to me it had not been wiped by the previous reviewer. His password was still in place however it allowed me to create another user and by ferreting about in settings found how to wipe the disc and his/her settings so I could start fresh. While whatever data they stored on the unit was safe from my eyes it surely is a weakness that someone could steal the unit and recycle it.
The tray at the base of the screen has five icons, Help, Chrome, Gmail, Documents and You Tube. If you open Chrome you can then open YouTube and keep browsing in Chrome but not the other way round, a quirk.
At the right side of the tray are Settings, Time, Wi-Fi, Battery, Zone and User.
This comes with an eMMC 16GB unit and unlike Windows systems this gives you plenty of extra offline storage.
Going round the unit you have Kensington Lock, HDMI, USB, Headphones, Micro SD Card and pin hole LED. The front is clear. On the right are two further USB ports and DC input. The back is clear while the base has twin reasonable speakers. The centre of the top of the screen has a Web Cam.
Google Docs is a quite respectable software package and while finding direct printing support is not always that easy normally you can print from it via the WWW.
By default Wi-Fi is set to on and Bluetooth set to off the latter to save battery but both are easy to adjust from the Settings menu in the tray.
There are very few 14inch Chromebooks around so should you want one of this size then this item must appear on a very short list.
The major – and possibly only – drawback for most is the inability to run Windows programs. Chrome has come a long way since the earliest Chromebook that required Internet access to do everything. Here you can run some programs available from the Chrome Store offline and you can certainly write in the documents program. Chrome is now an excellent browser in fact probably the best even on a PC.
So as stated earlier if you want a unit for browsing the Internet and sending and receiving emails as you main reasons for having a unit then this is a big tick.
The HP Chromebook 14 is available from the link below for £240.
http://store.hp.com/UKStore/Merch/product.aspx?sel=DEF&id=K3X08EA&opt=ABU