Gillette Skinguard Sensitive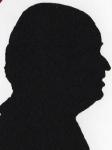 When walking through Waterloo station I noticed lots of adverts for a new razor that I have heard nothing about, there was even a pop up barbers salon where willing victims were receiving a shave, so I contacted their PR company and I received a razor and a canister of their new shaving foam so that I could try it myself and then tell you all about it.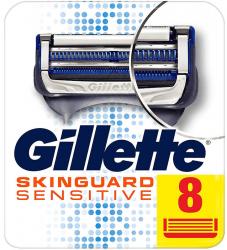 click image to enlarge
My regular wet shave is the five blades Fusion offering from Gillette.
This offering has two blades. Whereas the Fusion has a head of five closely spaced blades this head takes as much space over two blades, before and after contact with each blade your face is lubricated.
The whole unit is 14cm long, 4cm wide at the head which is 1.7cm and my own Fusion head is only 1.5cm.
So while both have protective strips at each end of the head the two blade Skinguard Sensitive has a skin protection area between each blade as well.
So when you shave even several days' worth of beard it feels like there is almost no contact on the face.
I have shaved with the one blade provided six times so far over a three week period with three/four days in between each shave and while my beard is not as vigorous as it used to be the razor has yet to pull or drag at my skin.
I mentioned that my five blade Fusion is my other razor or choice, but both the Fusion and the Skinguard have a single blade on the reverse for those areas like under the nose where whatever the size of the head you cannot get close and that works very well for those areas.
As stated Gillette have produced a special Shave Gel to go with the razor and I have used that for my six shaves. It is stated to contain aloe and while it works fine in shaving the aloe is designed to help protect the skin as well as cool the shaved area.
Sixty years ago when I started shaving it was with a single open blade and often just soap to make a foam. Nowadays we men are far more sensitive so this offering from Gillette is almost certain to succeed.
I kept the Evening Standard Ad and this links to an offer from Boots, 50% off at £5.99 for the razor alone that I was sent or £9 with three extra blades. The same 50% off offer has the Gel for £1.99 available both in Boots shops or online via the link below.