First Dates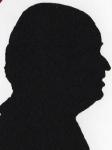 This board game for adults is based on a TV series, as I have never seen it I can only comment on the game. Strangely it has a 17+ rating that until now I did not know exist, I know of 18+ but that was/is a film classification which used to be – in my youth - 'X' or I believe 'H'.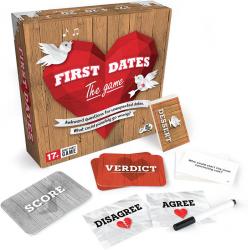 click image to enlarge
While there is a folded 22.5x22.5cm sheet with the rules you can probably get the idea better by watching the You Tube Video – link at the end – the box contains everything you need for a probably alcohol fuelled evening and it may even put a relationship of three to the test.
The game is said to be for six to ten players – there needs to be an even number – as you play as a pair, six would be fine.
There are three sets of cards 'Starters', 'Mains' and 'Desserts', you note I did not say afters.
There are also a pair of felt tip pens, marker boards and the all-important Agree or Disagree Cards.
One pair is asked a question I will use the one shown in the video, the couple who were asked this have to decide independently the answer, let's call the couple Angus and Sue, if they agree then they get two points, before their answer is revealed the other pairs have to agree on their response to the question if they are right they get one point, so after this question the score for the couple asked the question is either 2 or 0 and the other couples 1 or 0. Then the next couple are asked a different question and this continues until every pair has been asked a question and that then ends the Starters. Oh the question posed to the first couple was 'Who is the best kisser'.
So now you move onto the Main course and providing everyone is still a couple the questions tend to often get a little more personal so if sparks are not flying yet they probably soon will be unless the alcohol has mellowed everyone.
The final course Dessert really come close to the knuckle with some questions, it does not seem to matter if the couples are heterosexual, gay or anything else the questions still probably apply.
If something like this is played on a 'First Date' then you may well find there will not be a second or maybe there will, but not necessarily involving the same pair of people.
While not all the questions are personal a lot are, and that in itself might tell you a lot about your relationships current state.
The First Dates Board Game is available from Amazon for £23.