Multifunction Speakers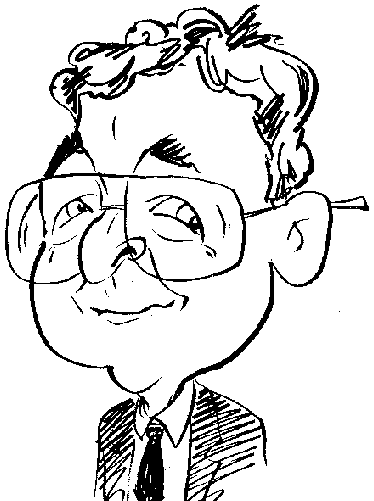 Review controls
Designed for the bookshelf, this next audio system features two-tone speakers.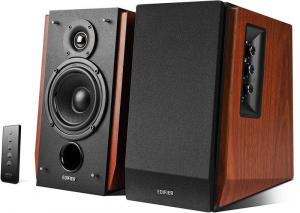 click image to enlarge
Developed by Edifier, the R1700BT product is a Bluetooth bookshelf speaker system. The kit consists of a pair of speakers covering active and passive roles. The speakers can be connected to a gaming console, computer, TV or for delivering streaming audio from Bluetooth-aware devices such as a smartphone or tablet. Also included in the package are a small remote control unit, a selection of leads and a User Manual booklet in various European languages.
As you might expect, the two speaker units present a front-on similar appearance to the attentive audience. In both cases a central black body, with a detachable false front, has walnut vinyl side panels. Personally I would have preferred a one-tone look to the speakers but everybody to their own taste and some could find this look appealing. Mounted on four rubber feet, for a more secure footage, on the 210 x 155 mm base unit and then rising to a height of 260 mm, the speakers features a built-in 10 degree angle directing the audio output towards the listener.
Apart from their different roles as either active or passive, there is a difference between the two speaker units. The passive speaker has a single connection option for use by the linking lead while the active speaker features all the other connection options and various controls. Positioned on the right side of the active speaker is a recessed area housing radio style knobs for adjusting the Treble, Bass and Master Volume levels. The Master Volume knob also doubles as the means of switching between LINE IN and Bluetooth mode with a light glowing green or blue to indicate the current status. Almost centrally positioned on the rear of the active speaker is an area contain an audio connection port, speaker outlet for linking to the passive speaker, power switch and a permanently attached mains lead with three-pin plug.
When locating this speaker system within your chosen location, there are a couple of considerations that need to form part of your positioning planning. Fortunately the lengths of the supplied power lead at 158 cm and the 490 cm of linking umbilical cord between the pair of speakers is such that it should cause no problems. If need be the power lead's length can be increase with an extension cable and the linking cable extends enough to cover most rooms. The other leads provided with this speaker system consist of a dual RCA to dual RCA audio lead and a 3.5 mm jack plug to dual RCA audio lead. Both of these leads have a length of 160 mm. In all cases these physical leads should prove to be more than adequate for the task.
As mentioned earlier, the Master Volume knob will instigate or turn off the Bluetooth streaming feature. Pairing is straightforward and quick to apply. However you do need to be aware that a quick press of the Mater Volume knob is needed rather than the press & hold instruction mentioned in the User Guide. It took several attempts before I worked out the correct method of switching between modes but it quickly became second nature.
Offering control over this speaker system, when relaxing in your living room or study, is a small remote control device. With dimensions of 75 x 35 x 5 mm, this battery powered black unit has six buttons which take over approximately half of the remote's surface area. Clearly labelled, these buttons allow the user to turn power on/off, adjust and mute the audio volume level and select either Bluetooth or AUX / PC mode.
The R1700BT speaker system makes use of the newly developed 19 mm "Eagle Eye" dome tweeters to improve the delivery of the clearest sound. Supporting the "Eagle Eye" tweeters are 4-inch bass drivers in each speaker for dealing with any low frequencies that form part of the audio output. The Edifier R1799BT is a good all-round speaker system offering a choice of source connections. I have seen this speaker system being priced at £129.99 on Amazon.co.uk.
Edifier R1700BT Bluetooth Speaker System

| | |
| --- | --- |
| Total Power Output | RMS 15W x 2(treble) + 18W x 2(bass) |
| Signal to noise ratio | >85dBA |
| Frequency response | 60Hz – 20KHz (@+/-6db) |
| Input sensitivity | PC 700 mV+ 50mV AUX 550mV + 50 mV |
| Input type | PC/AUX/Bluetooth |
| Treble driver | 19 mm silk dome tweeter |
| Bass driver | 4 inch |
http://www.edifier.com/int/en/speakers/r1700bt-bluetooth-bookshelf