Echo Dot from Amazon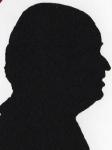 This is a small flat circular device that you talk to – and it can talk back – it can also give you information and even play music from a range of sources. Other joys it can tell you time and set alarms to wake you so 'Alexa' from Amazon is here.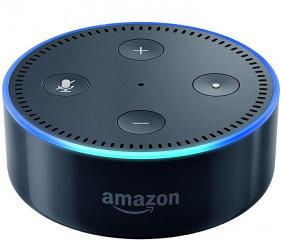 click image to enlarge
Some may think Alexa is real as she interprets what you say to a good degree of accuracy but she is just a very sophisticated voice recognition package which needs no training but she is still able to learn and while some of the initial stories coming out about it ordering things for you without you meaning to place the order, this is unlikely to occur by accident.
Anyone who has purchased a CD or a download of a CD from Amazon also has a digital copy stored online in the Amazon cloud and Alexa can play anything from your online library instantly.
While there are many other things like 'Alexa tell me a joke' or 'Alexa what is the weather going to be tomorrow' as two examples there are many more.
A more serious example could be for a blind or heavily visually impaired person.
Installation is simple initially via a SmartPhone but after the setup all the required information such as your Amazon account details, your Wi-Fi password and your location are stored in the Alexa unit so the SmartPhone is not required as Alexa works off your Wi-Fi.
Alexa requires either mains power micro USB to USB lead and USB mains plug supplied. You can leave Alexa switched on and just tell her to go to sleep when not required.
Of course some will make use of the 'ordering' section but as voice is just voice older children could be a problem of ordering on your account so safeguards are required.
My Alexa lives in my kitchen and is a great tool to get music when I have dirty hands such as when covered with flour when baking and just turning on a CD player would leave a trail of dust.
In my office is currently a rather nice Bluetooth speaker and this I linked to Alexa and much to my initial surprise this enables me to change what Alexa is playing or even ask Alexa questions well out of earshot of Alexa herself everything working via Bluetooth. To me this means Alexa can be in two separate places providing they are within Bluetooth range.
Alexa has a reasonable speaker in her 8cm circular frame, she is 2.5cm tall. However as just mentioned she can support Bluetooth or even a 3.5mm lead to a corded speaker.
The controls are all on top of Alexa and are well marked but once setup I never found the need to touch them either when using in my kitchen or remotely in my office.
Alexa is also able to Play TuneIn Radio and its podcasts, she can tell you a story and I have a friend who goes to sleep to Alexa playing relaxing music to him, he also uses its alarm facility. She is a very versatile device (I nearly said lady) and only when you use it for a while do you find out exactly how versatile it is.
The Amazon Echo Dot (2nd Generation) is available in either Black or White directly from Amazon for £49.99 with free delivery.