Control a Miposaur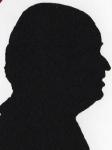 These days young children know all about Dinosaurs even probably before they can read, I have to assume that the Miposaur was one of these but my childhood was a long time ago and while we were slightly more advanced than wooden toys the Dinosaur was not in our repertoire.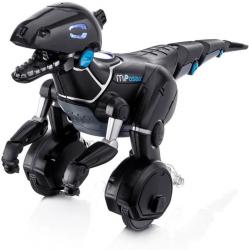 click image to enlarge
While I doubt that the real thing had a ball this one certainly does and he/she plays with it, he/she also has a wheel that moves it around, which it my historical knowledge is correct was yet to be invented.
However this is a very interesting toy that like the child who will play with it has moods, and your child – like you – has to live with them.
It is 39cm long, 15cm from the base of the wheel to the shoulder and 19cm wide. The legs are small two are at the back of the wheel and two are at the front of the shoulders.
The Miposaur requires four 'AA' batteries and its ball requires four 'AAA' batteries neither are supplied; however it works fine with rechargeable batteries.
The stated age is '8+' for this unit when the child will probably be perfectly able to change them themselves.
This is not a dumb toy as apart from it having the ability to chase and push the ball around it can also react to hand gestures and even to clapping.
When used with an App from either the Android or iOS store what it can do is greatly increased and it can even battle with other such items.
There is an A5 'Quick Start' sheet and also a quite detailed 16 page well illustrated A5 User Manual.
It has a microphone on top of its head, LED eyes, an LED mood indicator on the back of its neck – a lot of parents would appreciate such a device for their child -, IR Sensors on the back of its head, it has a speaker just below its neck. Behind its wheel it has an on-off switch – I have resisted a comment here – and moving on to the ball.
The wheel is not a dumb unit either as it has sensors for selecting items and a window to show these as well as an on-off switch.
The Miposaur has three different moods when it reacts to things very differently, they are Excited, Curious and Annoyed.
The basic hand commands it can follow – if it's in the correct mood – are to move left or right, spin clockwise or anti clockwise, stop which can be active from behind or in front, this action can also be completed from above or below, tail pull – it does not like this – push forward and two claps which it should sit, and three claps where is just roams around.
All the actions described depend on its position 'standing up' 'leaning back' or 'leaning forward'. Certain things like tail pulling always produce the same result other actions change according to mood or position.
So to control this unit the child needs to understand it and that requires skill a younger child may get some response but in the case of this toy I think the stated age of '8+' is about right.
The Miposaur is available from Amazon for £50.22 with free delivery.