BenQ EW2775ZH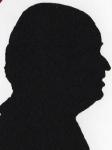 A rather nice 27inch panel from BenQ but while I am not greatly in favour of long names I would have thought of something that flows off the tongue better than EW2775ZH. Still this is about the usability of the unit and not its name.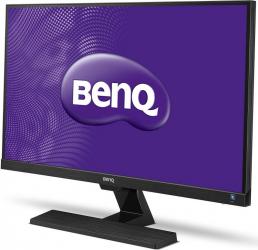 click image to enlarge
It is 61x36x2cm and it has a stand that is 31x17cm in the shape of an upside down 'T' so only the front 6.5cm is the full 31cm width. It raises the screen by 8.5cm from your desk; there is good back tilt and more front tilt than most units. No side to side movement is available but of course you could turn the whole unit. The now standard claim for most panels is that they can be viewed from 178 degrees from each side.
The viewable screen is 61x34cm which tells you the only surround is at the base of the unit.
The figures above give the notional diagonal imperial measurement of 27 inches.
Towards the right bottom edge are five raised pimples and finally a larger one (on/off) that control the unit by touch and as they are raised easier to find the one you want as they are not visible on the underside of the screen surround.
Flicker Free and Low Blue Light have been what the manufacturers say you want/need for a while now so the latest is Brightness Intelligent Technology "that optimizes display performance for videos and movies and automatically adjusting ambient light and on-screen content, protecting your eyes while delivering premium image quality".
So as it is my role to test bold statements I forced myself to spend many hours viewing a range of videos and I can say that in the vast majority of them I was able to determine what was happening in the many shades of black that directors seem to taunt your eyes with so I assume the statement in the paragraph above is correct.
Not satisfied with a low blue light setting this has low blue light plus which takes eye care a little further. Low Blue Light Plus Technology offers four scenario models for healthy viewing and tailor-made image projection.
The screen display is what is the current default standard of 1920x1080 and it has a contrast ratio of 3000:1 with 8 bit colour which means there is a theoretical 16.7 million colours available to view.
The Brightness Intelligent Technology not only adjusts what you see on the screen so one black does not fit all but checks the lighting in your viewing environment so if there is a lot of light around your room then the screen will be brighter.
The connections on the rear of the unit are two HDMIs and a VGA with an audio input for those using VGA and a headphone out socket for those times when others should not be disturbed. The line is completed by DC input.
As always I fiddle with the various settings but these days I find in normal circumstances Auto is best. Out of the box there are four modes available Standard, Entertainment, Office and Dark Room Mode.
Check the second link for lots of illustrations of the technologies mentioned and more.
The BenQ EW2775ZH is available from Amazon for £182.24 with free delivery.