Keyboard and Mouse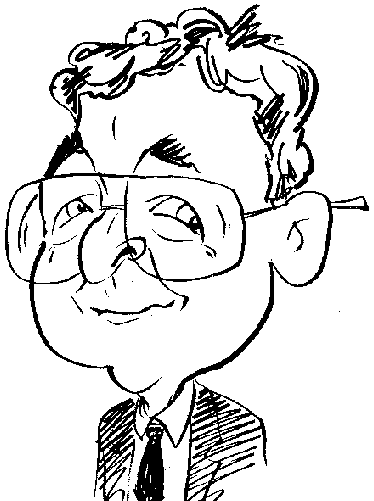 Review controls
When going into combat you need to make sure your equipment suits the situation and the user.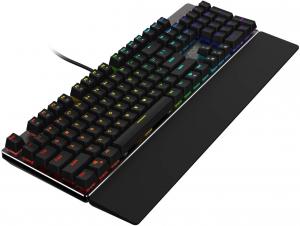 click image to enlarge
Whether faced by an AI or human opponent, in either single or multi-player combat, gamers rely a great deal on their input equipment. When it comes to competition, even the not-so-friendly training sessions, the functionality and feel of the keyboard and mouse can make a big difference in the outcome of the contest. Offering to help gamers in this respect is AOC with its new keyboard and mouse gaming devices.
This AOC combination is made up of the GK500 keyboard, decorated predominately in black with grey alphanumeric identifiers, and the mouse which is decked out in black with red embellishments. Displayed in the packaging the AOC GK500 is hardly eye-catching with no real pick-me-up appeal despite the array of keys that seem to be reaching upwards as if in search of the gamers fingers. With this keyboard's appearance, it almost looked as if you were being presented with a tray on which the individual keys were laid out ready for action.
Removing the keyboard from its packaging revealed that this mechanical keyboard came with a detachable wrist-rest. This wrist-rest connects to the main keyboard via a magnetic link that sometimes failed to keep the two elements together. The actual keyboard links to the host computer via a USB lead measuring 180cm.
Due to the raised state of the individual leys, it is obvious that there is a prospect of a visual treat to come from the electronic elements clearly visible. This comes about once the keyboard is linked to a power computer. The keyboard then takes on a visual red glow encompassing the whole array of keys and their identifiers. I am led to believe that there is a version of this keyboard that features a blue glow but I am content with the red glow of my unit as it gives the keyboard a welcoming effect.
Being used to a more lower-positioned button arrangement of my regular keyboard, I did find that I needed to adjust the amount of pressure applied to keys when using the GK500 as sometimes the keys did not response to my brushing style of pressure. Fortunately you do have access to G-Tools which will need to be downloaded from the appropriate site.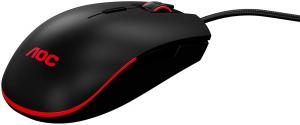 click image to enlarge
This software aims to be equally at home when making adjustments to keyboard, mouse, headphones and monitors from the AOC game fraternity. When adjusting the keyboard settings there are options designated as sensitivity and Light FX. The available features allow you to store five macros plus adjust 104 illuminated keys to suit your own circumstances in a profile among its range of options.
While I would prefer the freedom offered by a wireless keyboard, I would be prepared to accept the tethered approach of the GK500 with its customisable abilities even when the wrist-rest became detached during hectic activity. Expect to pay in the region of £55 for this AOC gaming keyboard.
AOC GK500 Gaming Mechanical Keyboard

| | |
| --- | --- |
| Buttons | 104 standard keys |
| Switch Life | 50 million click lifespan |
| Press Force | 60 + 10gf |
| USB Report Rate | Up to 1000Hz |
| Dimensions | 433 x 191.6 x 36.94 mm |
| Support OS | Windows 7/6/8.1/10 |
| Interface | USB 2.0 Type A |
| Software Support | AOC G-Tools (Download) |
| Macro Keys | 5 |
| Onboard Memory | 1 Profile |
Partnering the GK500 is the similarly named GM500. Featuring the same colour scheme and connection method as its keyboard partner, this AOC mouse has an ambidextrous design meaning it is equally usable by right and left-handed gamers. The top-mounted arrangement of two buttons and a wheel, with its rubber tread, is supplemented by a pair of trigger buttons either side of the mouse's body which give greater flexibility for a variety of game types and actions.
As with the AOC GK500 keyboard, this mouse can make use of the G-Tool software to adjust the device's settings. These settings include polling rate, double click speed and the pointer amongst others to help suit the gamer and demands of specific games. The GM500 makes a good companion for the GK500 as a range of virtual contests are met and defeated in the gaming world. Pricing is in the range of £20 for the GM500.
AOC GM500 Gaming Mouse

| | |
| --- | --- |
| Buttons | 8 - all programmable |
| Switch Life | 50 million |
| DPI | Up to 2500 |
| Acceleration | Up to 20g |
| Sensor Type | Optical |
| Dimensions | 123.82 x 63.42 x 37.90 mm |
| Weight | 145g |
| Default Effect | Red / Breathing |
| Lighting Effect | Static / Breathing / Blink / Wave |
| Interface | USB 2.0 Type A |