Moto 360 Watch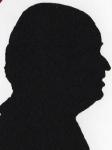 A slightly oversized watch that appears to have no connections, there is a dock but as the unit just sits in it the charging is wireless and the connection to your Android phone is via Bluetooth. So is this the next must have accessory?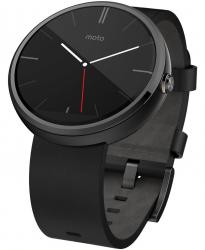 click image to enlarge
I am extremely happy with my current phone but the Moto 360 works with any phone that can download the Moto software from the Android store.
It is 4.7x4.5x1cm and weights 51grams.
As is my way I charged the unit in its cradle this took just over an hour until it stated 100% and indeed once I let it fully exhaust the recharge took the same time and also kept the time and all the settings I had changed from the defaults.
So once charged I just dived in after all no one RTFM do they unless or until they cannot do what they want to.
The default watch display has an old fashioned watch look but there are plenty of others including various digital offerings with desktop backgrounds.
This can be used as a fitness device and it also have a heart rate (pulse) monitor built in and I found this accurate at both rest and exercise rates. There is also a pedometer (step counter) that also seems to give correct readings.
The watch itself is stainless steel and it has a quality leather wrist band, the glass on the watch face is Gorilla glass to avoid damage.
Once you have downloaded the free App to your Android phone the watch will display lots of useful information such as schedule and weather according to your location.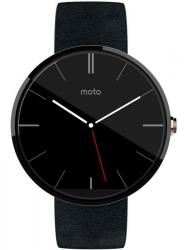 click image to enlarge
You can even send notes to yourself that can be delivered to your phone as an email and this worked perfectly with every word I said turned into the correct context word even when I deliberately used words that sound the same but are spelt differently, very clever. This can work to help you out when lost and you say OK Google and then ask directions. These are shown on the screen of the watch and are clear in all but the brightest sunlight.
When you place the watch in the dock to recharge it displays the time and also the current charge state as a %.
A few facts and figures the watch has 4GB of memory but some is taken by pre-installed Apps, and 512MB of RAM. It has Low Power Consumption Bluetooth (V4) and is stated to be water resistant. The battery should last allday but in really heavy use you could perhaps need a quick charge to get through. The dock and lead to 13amp plug are provided. It has two microphones to correctly hear you and has vibration to get you attention.
I was surprised at how useful I found the Moto 360 and how much easier it is to look at your wrist than to remove your phone from a pocket or bag.
While the watch is big it's not that different from a standard unit and having pulse and step counter built in can be useful.
The Moto 360 is available from the first link below for £180.84 with free delivery.
http://www.amazon.co.uk/gp/product/B00NBU1OMY?ie=UTF8&tag=gadge0a-21&linkCode=as2&camp=1634
http://www.motorola.co.uk/consumers/moto-360-header-gb/Moto-360/moto360-pdp-gb.html