Jabra Solemate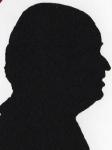 The Jabra Solemate is a small portable speaker capable of being totally wireless, it can be connected via Bluetooth or 3.5mm lead and as it runs on a solid battery does not even require a mains lead so here a small speaker that really can claim to be 'wireless'.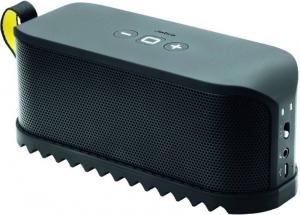 click image to enlarge
The Jabra Solemate Bluetooth speaker measures 16x6x6cm and weights 603grams.
While I quite often moan that boxes once opened are impossible to close up again as you have to break them open to extract the contents. Not so here as the plastic sleeve is opened by holding the ends and being solid it will protect the 'Solemate' when reinserted. The base has other secrets with every bit of space being used for the charge lead a carry bag and a clear a concise four pages 'Getting Started' in English in the multi language booklet. This also clips back together so no excuse not to find the leads of manual.
According to the Jabra site it is available in Black, White, Grey, Red, Blue or Yellow.
The left side has a finger strap, both the front and back are covered in a fine grill mesh. The base has a rubber tread with a 30cm long 3.5mm lead cut into it so it still sits flat. The top has three circular touch buttons, '-', 'speech' and '+'. This leaves the right side that has 3.5mm jack and micro USB sockets which can be both for output from a PC and or charging, a three position slider and above these two LED's for Bluetooth and battery state.
Setting up to play with Bluetooth is just a matter of moving the three position slider to the upper position and switching on Bluetooth on your device and selecting the Jabra Solemate.
Near Field is even easier as you only need to tap your device onto the Jabra Solemate, however you do the 'Second Generation' unit for this to function.
If you wish you connect it to your PC via the supplied 1metre micro USB to USB cable and get de4cent sound from your PC or notebook even if the sound chip supplied is naff or even non existent. I made MP3 tracks sound like far better quality recordings with the Jabra Solemate as the output.
The final way is to use a 3.5mm to 3.5mm cable either the 30cm one provided or another if a longer length is required.
A single charge gives you ten hours talktime and eight hours music streaming. Pressing the middle button at anytime will give you voice telling you your battery state, the voice also keeps talking to you until you have connected via Bluetooth. When you slide the three position switch to on or off it also makes a sound.
Improve the quality of the output from your Apple iOS or Android device by downloading the Jabra Sound App but again this needs the 'Second Generation' Solemate, it give Dolby Digital quality and you can also stream music from YouTube with it.
The Jabra Solemate improves and increases the volume of whatever you are listening to, to an even better standard with the free application but remember without the code it will not work and this is only available with 2nd Generation Solemate and some Jabra headsets.
The Jabra Solemate is available from the link below for £79.98 (in black) or £79.97 (in white both with free delivery from the link below.
http://www.amazon.co.uk/gp/product/B00934E0KU?ie=UTF8&tag=gadge0a-21&linkCode=as2&camp=1634
Information available from Jabra here.