Leyio UWB Device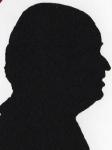 I have had this device for some months; however I have only been able to use it twice. Normally a device review has a lot of use but when it requires two units to do anything meaningful it is somewhat difficult when you only have one.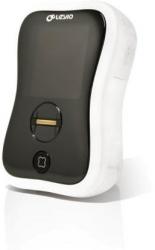 The Leyio UWB device measures 7.5x5x2cm but is waisted so in the centre it is .5cm less. It weights 70grams, so it is easy to fit in a pocket. It has one task to transfer data quickly using something called UWB (ultra wide band) when you come across another Leyio, you pair taking only a few seconds and then the one sending data flicks their wrist towards the other device and that's it, large files can be transferred in a matter of seconds. No PC is involved at all.
It has 16GB of memory and while there are eight inbuilt folders in my limited tests all files – whatever types – went into the inbox.
The front has a 3x3cm screen and below that a scanner button and another small button below that to initiate turning on or off. The right side has a USB port so you can transfer files to and from the device when back at base. The base of the unit has a 2GB removable flash drive and a mini USB socket that enables you to keep it charged.
Initially you train the device to recognise your finger or thumb, once trained one or more normally two swipes over it will have you recognised. Should you injure that digit you can also gain entry by entering a code number that you setup as a backup.
Press the small lower button to activate the device, the screen lights up and you swipe your digit. To switch off press the swipe button and when it says off press the lower button to switch off that is all there is to remember.
Most pairing (without wires) is done by Bluetooth and although it should not be pairing with Bluetooth is not always a bed of roses. Pairing two Leyios always seems to work and the transfer speed is indeed rapid. 85Mbits/sec may seem fast in fact UWB should work even faster but say a two hour film (not compressed) and watchable full screen on a TV or PC takes well under a minute to transfer.
Leyio state that it will last one month on a single charge in fact I have never charged it during all the time I have had it but of course that means very little as I have only used it twice to receive files from other Leyio users.
You can display pictures on the screen of the Leyio (but not videos) and list any files on the device. The USB port on the side allows you to upload or download to a USB stick so if you meet someone in the street with some information for you on a USB drive or you have some information for them you can do the transfer but that is of course only at USB transfer rate.
This is of course the whole problem you are paying well over £100 for a 16GB flash drive (well 18GB if you include the 2GB tuck in) while transfer is far faster than USB by some amount you do need to have another Leyio to make it work as designed. One is no real use (apart from the paragraph above) you need two Leyios to tango.
Currently I think it is an expensive gadget but it say digital cameras or even digital photo frames had the technology built in without two much of a premium then just maybe this technology may just become excepted.
Doing my Internet searches found the Leyio at a best price of £131.46 including free delivery from the first link below. The second link has some short videos showing the device in action. There is also far more details on it.
http://www.amazon.co.uk/gp/product/B0026RHDJG?ie=UTF8&tag=gadge0a-21&linkCode=as2&camp=1634