Bluetooth Headsets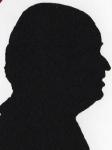 Here I am looking at two rather different offerings. The first from Jabra to give you stereo from your phone. The second from Mobile Fun with a rather novel way of working.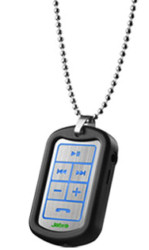 Jabra BT3030
As the box states 'Music and Talk meets the streets'. This is far more than a basic answer/call unit it can of course do that but it also allows you to increase/decrease volume, move back/forward tracks as well as star and stop. Of course there is also a phone button. The whole thing is a 5.5x3.5x1cm 'dog tag' style unit that comes on a chain to fit round your neck.
There are two connections, on the base a mini USB to 13amp plug to charge the unit and on the right side standard 3.5mm earbud socket. Some quite nice earbuds are supplied and for those whose ears do not normally fit these items they come with three sizes of outer sleeve so they should fit into almost all ear canals.
There is a tiny getting started sheet, it folds out into eight sides of 8.5x8.5 card but it is likely to be all you need. Should you have any queries there is a mini CD provided with a User Guide in umpty seven languages and of course the ubiquitous Adobe Reader. Quite interestingly in these mercenary days should you need more help there is an 0800 number given as well as nine different European support email addresses.
Really the only thing you need to do is pair with your phone but providing it has Bluetooth this could be a PDA or other device just to give excellent music quality.
Doing my Internet searches found the Jabra BT3030 at a best price of £40.45 including delivery from the first link below.
http://www.mobilefun.co.uk/product/15146.htm
http://www.jabra.co.uk/Sites/Jabra/uk-uk/products/Pages/JabraBT3030.aspx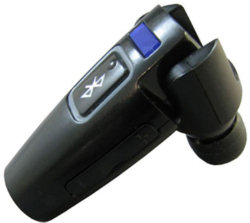 Mobile Fun MFx M210 Dangly Bluetooth Headset
This is lozenge shaped unit with only a single button on the face and an up/down toggle on it's side. The unit is 6x2x1cm and weighting only 10grams. I am a little puzzled by the 'easy to carry hand-strap/necklace style' statement as the unit I received had neither. It had a 7cm loop of black cord coming out of the top but I doubt that would go round the wrist of anyone but a small child and certainly not round the neck. I suspect there should have been another loop or necklace in the box.
Reading the small manual made things a little clearer the cord is actually part of the top - it is not designed to pull off - but you need to twist it and then it lifts off to display the earbud, two spares in different sizes are in the box.
The unit turns 90 degrees so the only bit outside the ear is 4cm long making it a very discrete headset. A 90 degree mini USB to USB plug is supplied and when the headset is in this position a mini USB socket is exposed.
The pre production unit I was sent also came with a car 'cigar lighter' style charger to enable charging when away from a PC. The claimed talk time 5.5 hours with standby time of 130 hours. Looking at their website it makes no mention of the car charger so I assume this is an extra.
One diagram on their site shows the unit attached to the top of the phone enabling you to twist the unit to leave the cap attached to the phone when you place the unit in your ear. I still remain puzzled about the hand strap statement as surely walking round with a phone in your hand is asking for it to be nicked, and surely the point of a Bluetooth unit is to keep the phone hidden?
I see from their website that the MFx M210 Bluetooth Headset is £24.45 including delivery from the link below.