Tough Mobile Phone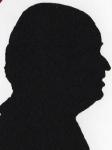 Never before have I been presented with a working mobile phone and been invited to throw it against a wall and then drop it on a concrete floor. It was still working afterwards; this is a ruggedised mobile phone.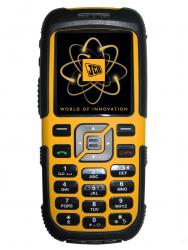 click image to enlarge
It is 11x5x2cm and weights only 125grams. It is matt black and as you might expect well padded. While you can store pictures etc it is only really a phone as a camera is always one of the most fragile parts it does not have one.
It is a Sonim XP1 and marketed by an appropriate company JCB as I am sure a lot of building workers will be likely clients, but anyone doing a dirty or heavy outdoor job, it is stock proof, stated to be splash proof but goes on to mention a strong shower (I assume that means rain and not the washing sort) and dust proof.
Of course most phones say splash and dust proof but no doubt that would be a different scale of wet and dust.
It has dual speakers for noisy environments and certainly building sites fall into that category. However I doubt any normal mobile will be certified to work between -20c and +60c.
The screen is 3.5x3cm and very easy to read (apparently it supports 65k colours), it is stated to be scratch proof certainly I could not do so but I did not try anything worse than a knife and a screwdriver. Of course I have yet to find a screen that is resistant to finger marks but a quick rub on the jeans should clean those off.
You have the standard 12 alpha keys set in three columns with the middle column slightly offset, very useful if you are wearing gloves as you are less likely to contact two keys at once. Above this are the normal call and end call buttons and above these two soft keys, splitting all these is the ubiquitous five position joystick.
Connectivity is Bluetooth, USB and there is also WAP browser. I was very impressed with the 64 page User Guide, not only was it all in English but well written and with adequate illustrations.
The left side has three buttons called side keys and easy call. The base has a heavy duty rubber bung covering mini USB and earbuds sockets. A belt clip is provided and there is a substantial anchor point at the back top of the unit. A heavy duty rubberised cover with a thumbscrew screw to open it hides the battery and insertion point for your Sim card.
It still seems alien to me to throw your phone on the ground or against a wall but I suppose it is less than the treatment it will get on a building site. It is stated to be drop resistant up to 1.65metres now if its on your belt you would be one tall chap to be beyond that.
They offer a three year no quibble warranty the faulty phone will be swapped out within three days. These phones are sold Sim free so just insert your Sin and off you go.
The phone has 240 minutes talk time and 200 hours standby time.
Because it has Bluetooth it enables you to use it handsfree with a headset or earpiece. It also has Push to Talk a simple level two way radio communication system (like a walkie talkie) this can work either one to one or one to many certainly a system ideal in a large noisy environment. This works across mobile wireless GPRS and broadband and is stated to work worldwide.
I would have thought anyone doing a dirty or heavy job (farmers, gardeners, labourers even people like plumbers) would appreciate a phone they do not have to keep wrapped in cotton wool.
The Sonim XP1 is currently hard to find the cheapest I found was the first link below at £149.99 as this was an Amazon partner it does not include delivery in that price.
http://www.amazon.co.uk/gp/product/B00139LWNQ?ie=UTF8&tag=gadge0a-21&linkCode=as2&camp=1634