Portable Videoconferencing From Logitech

The ConferenceCam Connect from Logitech is aimed at providing an affordable videoconferencing solution that bridges the gap between the basic Skype on a PC and the larger and more expensive videoconferencing suites and is a portable all-in-one solution that is suitable for meetings of up to 6 or so people.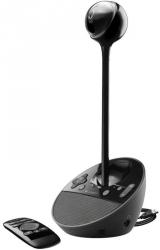 click image to enlarge
The battery-powered unit is cylindrical in form: 3 inches in diameter and 12 inches tall and weighs less than 1kg. It incorporates an autofocus Carl Zeiss Tessar lens which provides a 90 degree field of view and has digital pan, mechanical tilt and 4x digital Full HD zoom. Automatic compensation for different ambient lighting conditions ensures that participants can be viewed clearly.
As well as HD 1080p video and effective audio it provides multi-device connectivity for group collaboration. Just requiring a USB connection, and designed to work with Windows 7 and 8.1 as well as Mac OS X 10.7 or higher, it provides multi-device connectivity for group collaboration and has been optimised for Microsoft Lync and Cisco Jabber which are widely used unified communications platforms as well as being Skype certified. It can be connected to a HD TV screen for group viewing either by using the HDMI connector or via the Wi-Fi Direct Miracast connection.
As a speakerphone it incorporates acoustic echo and noise-cancelling technology and the full-duplex two-way audio. This I found was quite effective in practice. The Logitech claim that would work over a range of six feet is not an exaggeration and so it should be adequate for the majority of small conference rooms. At first sight it would appear that 360-degree sound is unnecessary on a unit that provides just 90 degrees video. However, whenever necessary with "round-table" meetings it is only takes a moment to swivel the unit to point at previously unseen participants.
The Connect is provided with a remote control which, when not in use, fits flush with the cylindrical surface of the unit. This is a very practical approach as it makes it less likely that the remote will be overlooked when moving the unit from room to room or even further afield. Furthermore, the overall size and weight of the Connect coupled with the fact that it incorporates a rechargeable battery that should provide up to 3hours usage, means that it can even be carried from site to site to enable ad hoc video conferences to be set up on demand.
With USB plug-and-play connectivity, Bluetooth, Android and Windows 8.1 compatibility it is aimed at being easy to set up and use and offers the versatility of wireless screen mirroring so that PowerPoint presentations and spreadsheets etc. can be shared over the link.
Priced at £449 incl. VAT it should quickly justify its purchase in business terms by enabling faster and more effective decision making while reducing the need for face to face meeting, which are both time-consuming and involve high travel costs, which should keep the bean-counters happy.