Single Purpose Items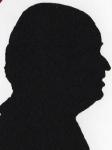 Have you ever arrived at the airport and started your holiday with a huge excess baggage charge, if so check out the Balanzza mini S sold by Lakeland. The second single purpose item is a USB Power Tap this is distributed by Thumbs Up.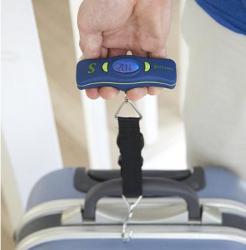 click image to enlarge
Balanzza mini S Digital Scale
This simple device can save much more than its purchase price the very first item you lift with it as it can save huge excess baggage charges. Don't worry either as it easily tells you the weight in either lbs or kilos at the press of a button.
A simple item consisting of a grip with a display on the top, this is powered by two clock type batteries that are supplied, either side of the oval display is a button. One turns the display on/off and the other changes the measurement from lbs to kilos. The maximum weight is stated to be 100lbs which is close to 46kilos, quite heavy enough for a normal person to lift.
Below the grip is a metal toggle with a short strap below this then another toggle and then a hook to which you attach your item to be weighed, lift if clear of the ground and the reading shows on the oval display.
Next the hard part, persuade your partner that the hotel probably has all those extra items that are not required and maybe three pairs of shoes is enough for the four night trip – good luck with the latter request – and you should be able to stay within the limit set by the airline.
The other benefit – apart from the saving in cash – is that you arrive without a bad back from carrying the extra weight.
The Balanzza mini S Digital Scale is available from their shops or the link below for £14.99.
http://www.lakeland.co.uk/23723/Balanzza-Luggage-Scale
Power Tap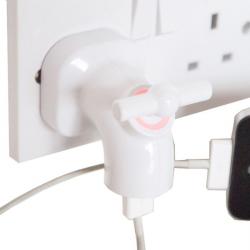 click image to enlarge
This is exactly what the name says. A power outlet shaped like a tap with a twist handle on the top to charge whatever USB lead device is plugged into the spout of the tap.
It is 6x6x4.5cm once plugged into a 13amp socket.
The twist handle turns through 90degrees and when power is on to the tap will glow at the base of the handle either red or blue dependant on whether power is going to the tap and thus to the connected device.
Vertical position shows blue and charge up to 1amp is being delivered and horizontal shows red and no power is delivered.
This is very simple single use device that can even be used safely by a younger child.
Power Tap is another useful device available from Thumbs Up and is available from the first link below for £14.99.
http://www.gettingpersonal.co.uk/gifts/power-tap-charger.htm