Sphero V 2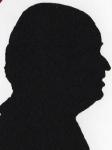 It looks like a plastic ball, it runs via solid battery a charging station is supplied. It works on IOS or Android devices via Apps free from either the Apple or Android store and not only will it work on the floor but also in water.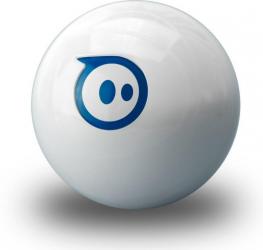 click image to enlarge
The battery is induction charged from his cradle. If Sphero is fully discharged it will take three hours to charge up fully. This will then give you a solid hour of use.
Sphero is a ball made to withstand the odd bump it is controlled from almost any Android or IOS device using Bluetooth.
The basic App allows you to move Sphero around both inside and outside. When I checked the store there were seven different Free Apps available there is even a golf one.
Sphero is made of high impact polycarbonate so even a set of steps should be okay just don't drop from the top of a multi storey car park as not only will Sphero not survive the drop anyone/anything it lands on will also be seriously damaged.
While I used Sphero on both an iPod Touch and various small and larger Android devices the ones the size of a phone are easier to hold and control.
Each App works in a slightly different way and tutorials show you what to do. There are also several videos and tutorials on www.gosphero.com that can help.
For instance do not try running it at full speed on a wooden floor – not enough grip – and unless you have a ballroom to work with you will soon find obstructions. In a normal room getting it around chairs, tables and other obstructions will take practice. Carpets give more grip but again without a large space slower speed is best. When outside you can let rip more and a driveway works well, it also can handle normal grass – perhaps the best place for the Golf App.
Once you have mastered control of basic left/right/back/forward then get really smart and get it to go in a curve.
Small ramps can be jumped and the various videos show how to get really involved. Water is no obstacle as it works perfectly but remember Bluetooth does have a limit to response so stick to ponds rather than lakes.
There is a Quick Start Guide in the box that has the first 12 pages in English, this covers charging and basic setup. Your Bluetooth code will contain three colours which it will flash while pairing, so look for the first letter of those three colours to help linking. When Sphero needs charging it will flash red. When you have finished playing place it in the dock to recharge or to switch it off. If you turn off or shut down the App you are using Sphero will continue to flash its colour code for a few minutes before it automatically shuts down. Just tap Sphero twice with a finger to wake it up.
This is a novel toy that can – in the right hands – produce excellent results and you define the skill level required.
Sphero 2 is available from the link below for £99.95 with free delivery.
http://www.amazon.co.uk/gp/product/B00EP0SIOG?ie=UTF8&tag=gadge0a-21&linkCode=as2&camp=1634