Speakers and USB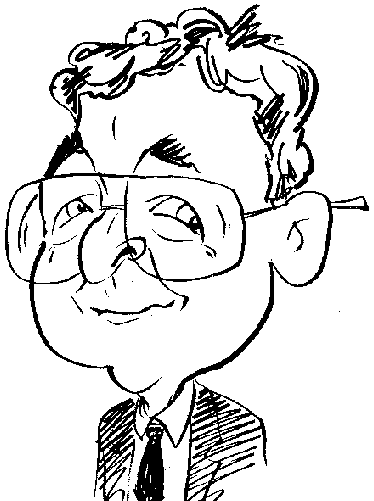 Review controls
The arrival of a new product from Edifier always gets my imagination going as I wonder what geometrical shape will have been used for the speakers that make up the new system.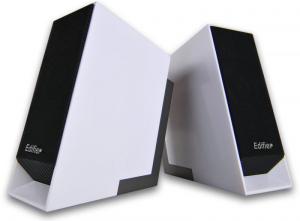 click image to enlarge
For those who have not come across a speaker system from Edifier before, the company has a habit of designing speaker systems whose appearance has an eye-catching effect. In the past I have taken a look at Edifier systems of different colours and those featuring cylindrical, spherical and decapitated pyramid units. Now it is the turn of the Prime USB model which belongs to the Edifier IT Lifestyle range of products.
Edifier has opted for a more classical shape for the two speakers making up this product. Each speaker, predominately white in colour with a dark gray L-shaped attachment at the rear and a black mesh front, has a sloping-based box appearance with dimensions of 63 x 156 x 147mm (W x H x D). Included with the speakers are a mains power lead with a standard 3-pin plug, 3.5mm jack analogue cable, RCA to RCA linking cable for the two speakers and a USB lead. As with the speakers, all the leads are white in colour. Two draw-string bags of a soft black material are provided for the storing of the speakers and leads when in transit or not in use. There is also a small User Guide.
Although both speaker units might look identical from the front and side views, there are a number of differences. The left speaker has a single connection socket at the rear. This socket accepts the RCA-RCA lead for linking to the right speaker which contains a built-in 4-port USB hub (1 up, 3 downstream) plus sockets for the RCA-RCA lead, mains power and a 3.5mm jack connection. The right speaker also has an on/off/volume level rocker control mounted on the top. While adequate for the task, this control was the least impressive feature of this speaker system. This type of control is not best suited to fine volume control adjustment and adjustments will be required as you switch between different audio sources.
Using the supplied USB lead, not over-generous at 74cm, you can connect the Prime USB speaker system to your computer for listening to your digital music. While writing this review I have been listening to several tracks played through the Edifier speakers and enjoyed the experience. I was also able to listen to tracks stored on my iPod and MP3 player via the supplied 3.5mm jack plug lead. When this lead is attached to the speakers it automatically cuts out any audio being delivered via the USB lead.
You do need to be aware that there is a noticeable difference in the volume level delivered by these two methods. Audio via USB will be far louder. As a result you will need to boost the volume level when using the audio lead – not forgetting to reduce the volume level when switching back to USB otherwise your ears might suffer.
For their size, these Edifier speakers deliver reasonable quality audio suitable for medium sized rooms. Hi-Fi enthusiasts will probably not be satisfied but for listening to music when working or playing games then the Prime USB kit is fine. The supplied connecting RCA-RCA lead allows you to position the speakers at a distance of up to 92cm apart which should be fine for most users.
As mentioned, this piece of kit has a built-in USB hub. This is a USB 2.0 device and it will give you three ports which can be used for different purposes. You could connect a keyboard/mouse, external hard drive, webcam or flash disk drive via these ports. However as modern computers tend to be supplied with a healthy number of USB ports as standard, the inclusion of a USB hub is not the incentive it once was for forking out the extra cash being asked for the Prime USB.
Edifier has priced this kit at £49.99 which seems a little excessive for a set of computer speakers even if they are capable of working with an iPod or MP3 player. I like the speakers but not the price.