Netgear's AV+200 for Multimedia over the mains

Powerline, which provides Ethernet connectivity over the local mains cabling, is an easy and convenient way to extend Internet access and network connectivity in situations where conventional wired access is inconvenient and wireless does not work satisfactorily through building walls. Netgear's Powerline AV+ 200 offers both high speed and security and, as the data throughput can be in excess of 80Mbps, it is ideal for gaming and multimedia file transfer.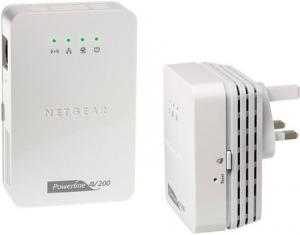 click image to enlarge
The basic kit consists of a pair of adapters each of which is 65 x135mm and has standard 13A mains plug on its rear face, a 13A socket on its front and an Ethernet connector on its top surface. The pass-through mains connection to the socket on the face of the adapters means that they can just be used without the need for extra power sockets.
It is, essentially, a plug-and-play solution. Plug one adapter close by the router and the other one adjacent to the PC or media device to which one wants to connect. Then, using the provided Ethernet cables, connect each of them to the adapters and you are ready to browse the Web. Additional adapters (together with their associated PCs) can be easily added to the network as long as they are all set to their factory default encryption key. (It is slightly more complicated when this key has been changed.)
However, with powerline technology there is the potential risk that information you send over the network can be accessed by someone nearby. This is particular relevant in blocks of flats, office buildings and any shared access area. To deal with this problem the AV+ 200 encryption key can be changed. This can be done by either using the utility provided or by using the Security buttons on each adapter.
While the former, for which both PC and Mac versions are provided, enable the user to specify a new encryption key the latter (which uses a randomly generated key) will also work with Linux as the software utility is not needed. The former is also used to set up QoS (quality of service) so that, for example, gaming or multimedia file transfer has priority and is not held up by, for example, the transmission of word document files.
Netgear claims that that the AV+ 200 will have a typical coverage of "up to a 5,000 square foot home" whatever that might mean. However, with my laptop in the garage at the end of what I estimate is a cable run of about 100ft, the powerline LED on the adapters showed green to indicate that the link rate was in excess of 80Mbps. By the way, a word of warning: I found that if one connected via a surge suppressor the range and performance was appreciably reduced.
At a recommended price of £119.99 for the kit containing a pair of adapters, the Netgear Powerline AV+ 200 is not cheap. Nevertheless, it is an effective and convenient solution where both wired Ethernet and wireless are either inconvenient or impossible. However, the kit can be found on Amazon at just under £100 which is a much more acceptable price.