Halo Security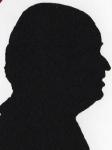 Review controls
This time it's not security for a PC but for a home. I have been testing this range of items all held together by a service since the late autumn. While you have a camera or cameras you also have switches for doors and other items.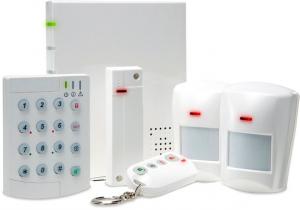 click image to enlarge
For some placing a heat sensitive light outside to light them up their path at night is a safety measure, for others they see this as security to deter a potential intruder. Others have a burglar alarm box showing in full view of the road, some of these boxes maybe live, others are dummies. The drawback of these is that they tell intruders you consider you have something worth stealing.
The Halo approach is to tell you what is happening when you are not there. A camera that you can view remotely is part of your basic allowance (although not in the basic kit) more than one camera can be used but then you need the next level of service.
I received the Halo Starter Kit and a Halo Camera, I tested the basic service and then the next step up that enabled me to add a second camera as well as other extra devices and also to receive SMS messages when there were any alerts. In fact the alerts can be checked through up to six people until an answer is received.
So what is in the basic box, a Halo Control Panel, a Halo Keypad, a Halo Keyfob, two Halo Movement Detectors and one Halo Door Contact. I was also sent a wired/wireless Halo Camera (this is an extra and not part of the kit).
In theory anyone can connect everything up the first problem is to find the instructions, it is likely you have them in your hand as the sleeve that surrounds the kit box is the instructions, still can't see them? They are printed on the inside the sleeve. You could slice through the card or peer inside but it is a way to keep the instructions with the box.
The Control Panel could be mistaken for a Modem and indeed it needs to be connected to your router or modem/router by the supplied Ethernet cable. It also requires mains power, however if power is lost or disconnected it does have a battery backup.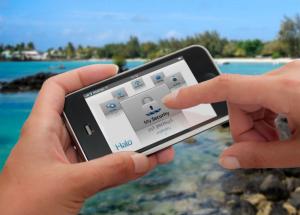 click image to enlarge
Next step you need to connect to a supplied web site address and create an account, next register your kit and camera.
Now position your sensors and keypad and your movement detector. Finally test you system the easiest piece is the camera, as you should see anything viewed by it live in the window of your home page viewed on your PC. You should be able to take short clips and view them when you wish. Of course the clips can be trigged by movement.
I was then upgraded to the more expensive Premium Service this enables more than one camera to be connected and also you to have an SMS sent to your mobile phone when all the security is in place and movement is detected or a door sensor triggered. So this could work for an unoccupied home or for when your office should be empty.
So while this is unlikely to stop the break in you should have some record of it happening and until the intruder smashes the camera or camera it should be transmitting video back to Halo. Remember you can log in with your username and password from anywhere with a broadband link to check what is being seen by the camera or cameras at anytime.
The SMS service could be an early warning, it could also be used to check on the vulnerable and shortly you should be able to use it to control devices in the home – turn on a light remotely – start the oven - turn on the central heating – etc.
So now the prices My Security is £4.99 a month, My Care is £4.99 a month and My View £2.49 a month. The hardware Starter Kit is £249.99 and the Wireless/Wired Camera £89.99. More details on everything from the link below.