Shaver and Mouse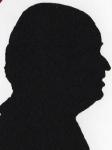 Two interesting little gadgets both connect via USB and for regular readers only one is from Brando. A USB powered electric razor is something to keep in a desk drawer. The mouse has bolder claims 'change the way you will use your laptop'.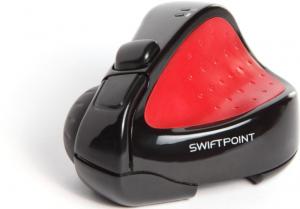 click image to enlarge
Swiftpoint Mouse
Certainly the smallest mouse I have ever used and a great alternative for those who just can't get on with a notebook trackpad.
It is a maximum of 5.5x4x3cm and weights only 25grams. There are no cables as it is a wireless mouse and even the charging of the battery takes place via USB. The wireless sender is also tiny at 2.7x1.5x.5cm and it is magnetised.
Mine was black with a red left side where your right thumb sits, the rest of the controls are controlled by your next finger. I will go through the controls in a bit. It is designed mainly to be used with a notebook or a Netbook.
It can sit in front of the keyboard and use that space and that allows the small size work with small mouse movements.
The top has two buttons one behind each other for left and right, even with the small size the right edge has a rubberised scroll wheel.
Initialisation is just a case of plugging in the tiny wireless receiver into a USB port and waiting a bit for the drivers to be installed. Providing the mouse has charge it works and you can then forget about the trackpad that so many struggle with. To charge just clip the mouse to the wireless receiver and an LED on top will flash until charged.
The SwiftPoint Mouse is available from the link below for £49
http://www.amazon.co.uk/gp/product/B004FDUKHQ?ie=UTF8&tag=gadge0a-21&linkCode=as2&camp=1634
http://www.europe.futuremouse.com/ has a demo of it in action.
USB Electric Shaver
It is 9x6x3cm maximum but as it is thickest in the centre the sides are only 1.5cm. It weights in at only 115grams.
There are only two controls a slider switch on the front (down for off) and a micro USB connection on the bottom.
The top 2.5cm is a cover that just pulls off to reveal the 4.5x1.5cm shaver head foil. If you grip this firmly by its sides you can pull this off to reveal the actual head and you need do this to remove the shaved bristles this is best down over a bin or waste paper basket as most will automatically fall only the remainder will need to be blown off.
If like me you often do not shave over the weekend I found this less than easy to use on three days growth as the non bristly hairs tend to lay flat and this unit just sweeps over them and this gives a less than perfect result.
However one day's growth it seems to handle perfectly. I found it an ideal unit to keep in the office desk when going out for the evening and you just want to use the 5PM shadow with a quick once over the face to spruce up.
Also should you normally have a wet shave this is an ideal occasional alternative. To recharge just plug into any USB port for an hour or so and you are ready to go for a several weeks of 'second' shaves
The USB Electric Shaver is available from the link below for $28 (US) plus $3 (US) P&P.
http://www.usb.brando.com/usb-electric-shaver_p1994c35d15.html