Soundbar and LifeCam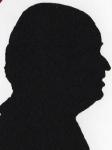 Two separate items the first from Edifier a small soundbar for use with a PC or any device with a 3.5mm output. The second Microsofts LifeCam HD-5000 for those without a web cam so probably for those using a PC rather than a notebook.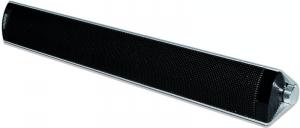 click image to enlarge
Edifier Soundbar USB MP250
There are times when you want sound but earbuds or headphones are not wanted, maybe you are listening for the phone or the doorbell, possibly even you are baby sitting, the TV is too much so possibly the iPod but you need decent sound.
It is triangular and 27cm long a maximum of 3.5cm going down to 1cm and 4cm deep. The left side has two connections a mini USB (for power) and a 3.5 to 3.5mm jack lead. The USB lead is 80cm with the 3.5mm lead is 90cm both ends are L shaped. The only indication of power is a blue light at the right end of the soundbar.
It comes with a drawstring bag and a User Manual the first six pages are in English. The obvious place to connect is to a PC or laptop but unless you have one of the very recent notebooks with a USB socket live when it is off then you may as well use the PC or notebook. However there are several different types of 13amp solutions where USB power is provided so you then plug your USB lead into them to provide the soundbars power.
My first impression was that the sound was good from the five speakers arranged in a row across the front of the unit but even when listening out quieter passages were if anything too quiet then on reading the manual I found that the silvered button beside the blue light has a purpose being a volume control, still not enough for a whole room but plenty for a listen when the speaker is within .5 metre or so.
The other use would be as speakers for a PC with most recent flat panels deciding that size and weight are the most important thing the speakers that often lived in the base are dumped so this could be a small replacement.
Doing my Internet searches found the Edifier Soundbar USB MP250 at a best price of £37.66
http://www.amazon.co.uk/gp/product/B003TWN6DO?ie=UTF8&tag=gadge0a-21&linkCode=as2&camp=1634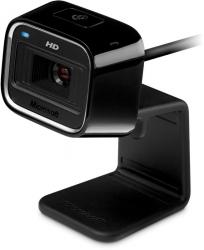 click image to enlarge
http://www.edifier-audio.co.uk/
Microsoft LifeCam HD-5000
My initial joy at this coming in a box rather than plastic needing industrial scissors lasted only as far as lifting the lid as by the time I had extracted it you would need a degree in jigsaws to put it all back together again.
Like most USB items software installed before connection of the device. While the supplied CD had 362MB of software on it the install seemed to download most files from the web. Even without installing Live Messenger it took ten minutes to complete. On blessing no reboot is required (it is USB remember) so use after that is immediate. It still required 135MB of hard disc space.
The camera is 3.5cm wide, 3cm tall and 2cm deep. It has a 9cm rubber tail that is able to be turned to fit almost any screen surround. If you still use a monitor then it can be laid flat as a counterbalance to the camera.
Images both still and movie were excellent and perhaps to be avoided first thing in the morning when you are my age. Without Live Messenger you cannot use the button on top of the unit to make calls but Skype etc work fine.
Doing my Internet searches found The Microsoft LifeCam HD-5000 at a best price of £23.99 from the link.
http://www.amazon.co.uk/gp/product/B0033AYIAW?ie=UTF8&tag=gadge0a-21&linkCode=as2&camp=1634
http://www.microsoft.com/hardware/digitalcommunication/ProductDetails.aspx?pid=019