Two Rather Different Tripods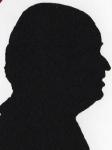 Tripods are normally considered something to attach your camera to that allows you to get a steady shot either with a very slow shutter speed or when you are using a large optical zoom. Here two rather different takes on a tripod.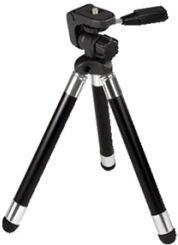 Hama Photo
This is a conventional offering called the Traveller Compact. Collapsed it is only 22cm tall and only 5cm around. Erected it is 43cm tall and the normal triangle shape requires 30cm between the legs. It weights only 270grams.
Two extensions come out of the original legs and the central piece requires a twist to lock it in position. If you have only a light camera it will probably stay in place without locking but a heavier unit such as a DSLR will certainly need locking to prevent in collapsing. Once erected it will certainly take a good weight, certainly I gave it a substantial push directly down without any sign that it might be the slightest likelihood of giving way. The box states it will hold up to 3KG but I certainly put a lot more pressure on it than that figure.
The fitment on top is the normal screw in fitting to the camera. Below this an 11cm long arm to allow you to alter the camera angle with a 2cm across knob to tighten this so that your camera is going nowhere once you fixed it.
This is designed to be placed on a table, a wall or some other solid surface, if used on the ground you would need to be lying down.
Available from the link below for £8.98 and this includes free delivery.
www.memorybits.co.uk/shop/cameracamcorder-tripods/hama-mini-tripod-traveller-compact-4055/17624
Joby Gorillapod Go-Go!
While this can be used as a conventional tripod for a small digital camera it is sold as a tripod for a mobile phone. However its main secret is that it can be placed on an uneven surface and it can even be wrapped round something like a pole.
The maximum likely height from a flat surface would be around 15cm with around 10cm between any of the three legs. Each leg is made up of ten pieces each of which can twist and rotate so you have the maximum control on placement. Each leg is easily capable of folding back on itself.
While each leg has a grey rubber foot each of its ten nodules has a grey rubber ring around its centre to aid grip for unconventional surfaces.
The top has only the screw fitment and while a standard small digital camera or one of the recent range of small camcorders will – and do – get held firmly in place by it, the job is it meant to do is hold a mobile phone so video sequences will be far less shaky than those filmed handheld. A nice idea that you wonder why no one has made such a thing before. If they have done I have certainly not come across it, an ideal tripod to fit in the pocket.
It also has a couple of very adhesive stickers that allow you to fix something without a convenient tripod screw available.
Yes it looks like a toy but as soon as I saw it I knew it could work in a far larger arena than just mobile phones.
Available from the link below for £13.67 including free delivery, other colour combinations are available.
http://www.memorybits.co.uk/shop/cameracamcorder-tripods/joby-gorillapod-(blueblack)-6947/17637