A Rechargeable Mouse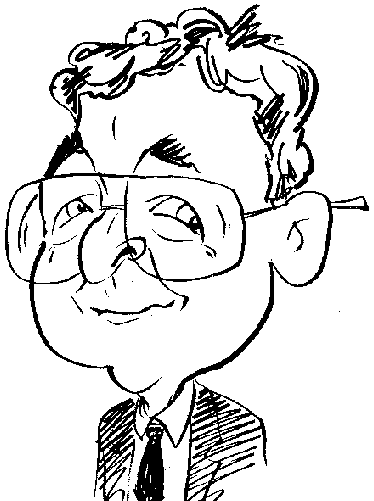 Wireless mice have many advantages but can cause frustrating when their battery dies in the middle of carrying out an important task. Perhaps a rechargeable mouse might be the solution.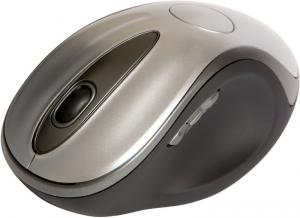 click image to enlarge
Adding to its product line-up that includes portable USB drives, Flash memory cards and external hard drives, Verbatim has released a Wireless Laser Desktop Mouse with Docking Station. As its title suggest, this mouse has been designed for use with a desktop system rather than a notebook. The kit consists of the mouse, receiver/ charger unit, a couple of AA rechargeable batteries, software CD and small multi-language Quick Start Guide.
Decked out in a combination of black, grey and silver, the mouse is one of the largest I have seen. Although it measure a fairly impressive 128 x 80 x 48mm (L x W x H), it still felt comfortable in my hand which is not particular large. Although not symmetrical, the design of the mouse is such that it would suit both right and left handed users. The left and right buttons both feature shallow channels for positioning the appropriate fingers. Situated in the standard location between the two main buttons is a bulky rubber wheel. The rubberised side panels are sculptured to help give a comfortable grip.
Left handed users might encounter a little discomfort with the positioning of an additional control. This combo button is sited on the left side of the mouse. Using this button you can zoom in and out of a view by pressing either end. Pressing the centre element should allow you to switch between the three supported dpi settings of 800, 1200 and 1600.
The mouse communicates with the computer via the receiver/charger unit. This piece of kit connects to the computer via its USB lead. When not in use the mouse can be placed on the receiver/charger unit and have its batteries recharged. As well as charging the mouse, this unit has a LED light that flashes to indicate when any activity is detected. In order to preserve on battery power, the mouse will automatically slip into sleep mode when not used for a period. A click on a button will awaken the mouse. There is also a button on the base of the mouse which can be used to turn it off for longer periods.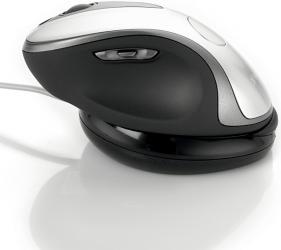 click image to enlarge
The software that is supplied covers both three and five button mice. This software allows you to define the amount of vertical scrolling when using the wheel by opting for a set number of lines or a page at a time. You can also alter the default settings assigned to a wheel click and the side mounted buttons. A drop-down list of over 55 different commands is available for making a choice regarding which commands are assigned to which button.
As with the other mice in its range, this Verbatim Wireless Laser Desktop model should let you switch between the three different dpi settings to suit particular applications. According to the Quick Start Guide, this feature is activated by the side mounted button which uses a light feature to indicate the current mode. If it shows a bright light then the setting is 1600dpi, a dim light is used for 1200dpi and no light at all means it is 800dpi. Unfortunately I was unable to get this feature to work. I could not detect any change in the movement of the cursor and no light appeared.
Although, as I mentioned earlier, this mouse felt comfortable in my hand, it tended to feel unwieldy to use for any length of time and definitely required more desk space for even basic operations. Those with, myself included, a cluttered workspace could struggle with this mouse. Supporting both the Windows 2000 and later or Mac OS 10.4.x and higher platforms, this Wireless Laser Desktop Mouse with Docking Station has been priced at £39.99.
http://www.verbatim-europe.co.uk/en_1/product_wireless-laser-desktop-mouse-with-docking-station_15521.html