Mice from Microsoft and Belkin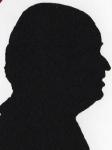 Review controls
First the Wireless Notebook Microsoft Presenter Mouse 8000 that comes in some very novel packaging. Second the Belkin offering that I first saw last August as a prototype a washable mouse.
Buy Now
Microsoft Presenter 8000
£41.94 incl. shipping
from Amazon


Belkin Washable Mouse
£19.63 incl. shipping
from Misco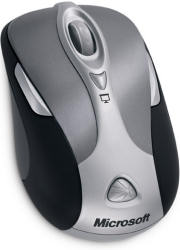 Microsoft Wireless Notebook Presenter Mouse 8000
This is the first mouse I have reviewed that comes in its own carrying case, and more than that, it swivels in the packaging so you can view it 360 degrees while still on the dealers shelf.
As a mouse it has six buttons the normal left, right and scroll wheel, also one on each side to allow you to assign it extra features and the sixth near the base that would normally sit near the back of your palm. In fact there is another between the scroll wheel and the sixth but as this turns it into 'Presenter' mode I did not count it.
The presenter features are not unique I recently reviewed one such rodent from Kensington however Microsoft implement them on the back of the mouse and instead of using the left and right mouse buttons they have no less than six dedicated keys.
It is 10cm long, 6.5cm wide and a maximum of 4cm thick. The wireless sender is 4cm long when inserted in a USB port. The mouse runs on two 'AAA' batteries included.
As a mouse it works fine, you will need to install the software (45MB) to make full use of the extra buttons. As a presenter it is probably better than most devices sold solely for that purpose. The protective case is fine and no doubt lots of other manufacturers will soon follow suit by providing one. My main wish is that camera manufacturers follow suit with something to protect the fragile TFT screens on their cameras. Of course Microsoft maybe got at by the large retailers as they may consider selling protective cases for mice their domain to make extra margin and in that case this maybe the only rodent you see provided with protection.
A huge price differential £60+ in some places but available for £41.94 including free delivery from the first link below.
http://www.amazon.co.uk/gp/product/B000GSR1QM
http://www.microsoft.com/hardware/mouseandkeyboard/productdetails.aspx?pid=085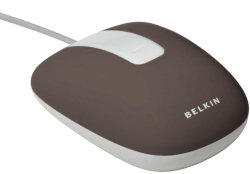 Belkin Washable Mouse
After the recent report stating how dirty most peoples keyboards are it seems logical that the next report will claim how many germs lurk on your rodent.
My unit was dark grey and cream 9.5cm long 6.5wide and a maximum of 3cm tall.
It looks as if it has no buttons in fact the area to the left of the central area has a button under the rubber coating and the same on the right side. So is this only a two button mouse? Well according to the instructions no if you depress both buttons at the same time you get a scrolling action. There is a blue LED that shines through the middle area of plastic during certain actions.
On first plug in (no drivers required) the mouse is recognised and any normal left and right mouse clicks work, a little work may be required to get double clicks right. The scroll feature does work but normally only at a slow speed. With a normal wheel you can move rapidly over areas of text to get to the section you want so anyone with very long documents to scroll may not like this rodent. However with more practice I find it is possible to scroll quickly.
As far as the washing you are warned not to put it in the dishwasher and not to immerse the USB connector.
Doing my Internet searches found the Belkin Washable Mouse at a best price of £19.63 from the first link below.
http://www.misco.co.uk/applications/SearchTools/item-details.asp?EdpNo=303418
http://catalog.belkin.com/IWCatProductPage.process?Product_Id=380694