Optical Mouse from Kensington (twice)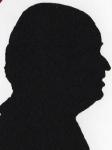 Here I am looking at not one but two mice from Kensington, the first a traditional desktop rodent. The second a smaller wireless offering primarily for notebook users. Both rodents are optical so no balls to pick up the dust and grit.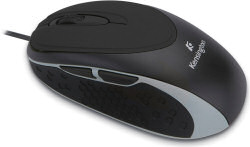 Ci20 Optical mouse
My first joy on receiving this rodent was that it was in a box so no need for the industrial scissors. It is jet black with two grey stripes down the sides. 12cm long 6cm wide and a maximum of 3.5cm tall. On first glance it is a conventional 3 button offering but the left side has two more making it one of the 5 button variety.
Even though my preference is for a small mouse this felt very comfortable in my hand and surprisingly light. Both sides have a rubberised strip below the grey flashes on the sides. It is both PS/2 and USB and there is a 1.7metre lead so you can roam well around the desktop.
To make use of the extra buttons some software is provided however by default these are programmed to move forward and backwards with your Internet browser however the software has a multitude of potential settings should you prefer.
I would descried this as a whole hand mouse as it really fills your hand whereas the standard 'good' mouse of a few years ago filled the fingers.
Doing my Internet searches found the Kensington Ci20 at a best price of £11.24 from the link below.
http://www.misco.co.uk/applications/searchtools/item-Details.asp?EdpNo=278878&sourceid=2004
Ci65m Wireless Notebook Optical Mouse
Unfortunately my pleasure on not needing the industrial scissors did not last as this comes in the plastic display case now so popular, however any chance of keeping items in the packaging after opening is nil and in fact keeping the packaging at all probably counts as an offensive weapon with the sharp edges.
This is a three tone mouse black top, very dark grey sides and lighter grey base. It is also rubberised around the sides and front.
It has no cord is termed 'wireless' but the controller (looking very like a memory stick) fits into a USB port and the battery itself has two AA batteries in it's base.
It is 9cm long, 6cm wide and around 2.5cm tall. While this is described as a 'notebook mouse' there is no reason why anyone liking a smaller mouse should not use it with a 'desktop' PC.
A conventional three button design and as such will work as soon as Windows recognises the device. Reading the blurb on the back of the packaging - before I opened it - says it will with Windows XP and 2000 or Mac 10.2.8 or later.
I see no reason why other versions of Windows such as ME and Vista should not work. 98SE may be a problem as the way it recognised USB devices was somewhat different.
Doing my Internet searches found the Kensington Ci65m Wireless Notebook Optical Mouse at a best price of £18.05 from the first link below.
http://accessories.euro.dell.com/sna/productdetail.aspx?c=uk&l=en&s=bsd&cs=ukbsdt1&sku=A1167077
Both these items as well as other Kensington items can be seen on