A Pleasing One-piece Monitor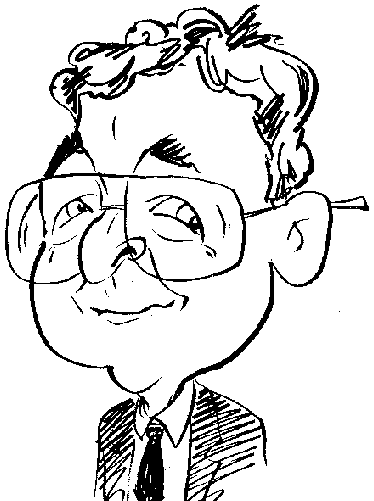 Along with available storage space, one aspect of my computer system that has grown in size is the monitor with 24-inch being a popular choice.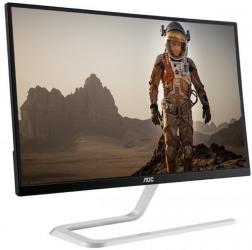 click image to enlarge
Adding to its range of Style-line display units, AOC has introduced its I2481FXH model. Arriving as a one-piece unit, this LCD monitor comes mounted on an asymmetric, matte silver metal stand. The combination of display panel and stand has dimensions of 541 x 403 x 150mm (W x H x D) as it sits on the workspace.
Immediately drawing your eyes to this panel is the presence of, one could state the almost lack of, the unit's black bezel. This is one of the narrowest bezels I have encountered. In fact I have seen numerous smartphones that possess a wider bezel than the 7.5mm width running across the top and both sides of this product. I would fine it hard to disagree with AOC's description of this monitor having a "nearly borderless frame". The bezel at the bottom of the panel is larger but this is necessary to fit in the controls for the unit's OSD feature.
With an aspect ratio of 16:9, this 23.8-inch (60.5cm) monitor has a display area of 527.04 x 296.46mm which delivers a maximum resolution of 1920 x 1080 @ 60Hz with 16.7 million colours. Apart from the ability to tilt this screen between -3 and 20 degrees, this is a fixed display with no swivel or height adjustment. However you do get a reasonable viewing angle of 178 / 178 degrees.
Located at the rear of the panel are the various connection options supported by the product. Along with the power socket, you get D-Sub (aVGA) and two HDMI ports allowing the monitor to be connected to various devices such as a DVD player or games' console as part of a computer system set up. There is also a jack socket for plugging in headphones for private listening sessions. Leads for power, D-Sub and a HDMI connection are supplied as standard in the box.
Along with the monitor and various leads, this package contains a software CD with a PDF version of the User Guide, monitor drivers and utilities for use with this product. These utilities are the usual collection offered with various AOC monitors. The utility that I tend to use the most in this collection is iMenu. This piece of software duplicates the functionality of the OSD. It has a user-friendly interface that allows you to switch between topics. I found it far easier working with this utility as it let me switch between topics entitled Luminance, Inage Setup, Colour Temperature, Colour Boost, Picture Boost, Setting, Extra and Help. As the mouse cursor hovers over each topic, so a list of options will appear while a mouse click will allow you to select an option to make the necessary adjustment.
The e-Saver utility can be used for setting up of time activators for different tasks using a series of drop-down pick lists. Events, such as waking up or shutting down a computer, can be created. If you need to work with dual monitors and / or various screen layouts, then the third utility of Screen+ can come to your assistance.
With the built-in AOC Flicker FREE technology, clean cut appearance and well up to standard performance, the I2481FXH is worth considering with its recommended price point of £139.
AOC i2481FXH Features

| Feature | Description |
| --- | --- |
| Panel type | IPS |
| Panel size | 23.8 inch / 60.5cm |
| Aspect ratio | 16:9 |
| Brightness | 250 cd/m2 |
| Contrast ratio dynamic | 50M:1 |
| Pixel / Dot / Pitch | 0.2745mm x 0.2745mm (H x V) |
| Display area | 527.04 x 296.46 (H x V) |
| Viewing angle | 178 (H) / 178 (V) |
| Response time | 4 ms |
| Maximum resolution | 1920 x 1080 @60Hz |
| Recommended resolution | 1920 x 1080 @60Hz |
| Colours | 16.7M |
| Dimensions | 541 x 4033 x 150 mm |