A Tablet for the Desktop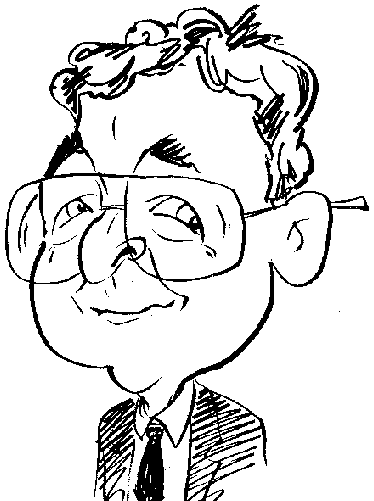 Review controls
The Android operating system and touch capability go together like fish & chips even when served up on the desktop.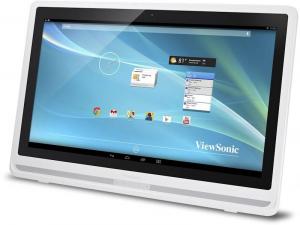 click image to enlarge
The ViewSonic VSD241 is an All-in-One (AIO) device that brings Android functionality to a 24-inch touch screen enabled monitor. With dimensions of 604 x 419 x 187mm (W x H x D) and weighing around 7Kg, the VSD 241 is definitely a product that will be more at home when seated on a flat workspace. An adjustable book stand attachment enables the VSD241 to be positioned upright on an appropriate work area for easy access when carrying out various tasks.
The 24-inch screen, which can recognise up to 2 point touch gestures, is surrounded by a black bezel housing a built-in webcam which does require a connection to a computer in order to function. The screen and bezel are then encased within a white frame featuring five touch sensitive controls in a central position near the bottom. These buttons cover such features as power, OSD (On Screen Display), input signal and menu navigation.
All the various connection options are located on the rear of the monitor. Initially it might appear that your choice is limited to a DC-in Jack for mains power, HDMI linking and a LAN port. However on closer examination, there is a removable cover which reveals further options for connection devices to this Android driven AIO tablet-on-steroids offering. There are a couple of standard USB 2.0 ports, a mini USB port that the built-in webcam can make use of, a micro USB port, SD memory card slot and a headphone jack. This connection collection should cover most eventualities.
Setting up the VSD241 device is straightforward as you attach the power lead and touch the power button. The VSD241 has built-in Wi-Fi technology and this will automatically seek out available networks so that you can select and log in to the relevant one. An on-screen keypad allows you to enter the appropriate password. If your network does not support Wi-Fi then you can make use of the LAN port on the rear of the display.
You can log on to your existing Google account or, if necessary, create a new one. Your VSD241 will be set up with the appropriate software that comes with the Android operating system. Additional apps can be downloaded from the Play Store and installed in the unit's available memory.
As standard, the VSD241 comes with 1GB of DDR3 RAM to accompany the nVidia Tegra®33 Quad-core 1.7GHz processor. You get 8GB of internal storage of which just under 6GB is available, once Android 4.2 has commandeered its share, plus Google's usual 15GB of drive cloud storage. The SD memory card slot allows you to add an additional 32GB of storage space.
When setting up your apps to suit your style of working, you have a number of options at your disposal. Your Home page is spread over five panes in which you can deposit apps as you please. The central Home pane will initially be pre-populated with a short-cut link to a User Guide along with apps that include Maps, Gmail, Play Store and YouTube. You also have access to an eight pane spread of the apps you can have available.
The 24-inch screen delivers full 1080p HD resolution for watching your favourite movies. For this purpose I used the free Archos Video Player app which allowed me to access all my video collection stored on my local network and so saved on using up the available storage space on the VSD241. The screen's touch capability includes touch & hold, drag, swipe and slide tactile actions. Generally the response was fine although there were a couple of occasions when sideways scrolling tended to pause midway through but this could have been due to my finger flick being rather hesitant.
As mentioned earlier, there are a number of ports available on the rear of the unit. The HDMI port can be used to connect devices such as a Blu-ray player or game console. While you do have access to an on-screen keypad, which is fine for minor tasks, I preferred using a full-size keyboard for more major tasks such as typing this review. You can attach a keyboard and mouse using the available USB 2.0 ports. My fingers certainly appreciated being able to type in a more natural manner than the "pick & peck" operation that you need to adopt with the vertical aspect of the on-screen keypad.
Along with the physical connections and Wi-Fi connectivity, you get Bluetooth 4.0. This technology can be used to connect to external speakers if you need greater volume than is supplied by the VSD241's internal speakers. Bluetooth can also be used if you have access to a Bluetooth keyboard and/or mouse.
Starting up the VSD241 from cold takes approximately 35 seconds from the initial touch until you arrive at the Lock screen. When shutting down this device you need to hold down the power button for several seconds before the "shut down" message appears on screen. Shut down takes around 20 seconds to complete the process.
Visually the VSD241 is impressive and its performance is not too far behind. The product is supplied with the power lead, HDMI cable and a USB cable. Currently the ViewSonic VSD241 is being advertised at £499 on the Amazon.co.uk website.