A useful portable visualiser

Although the majority of laptops now incorporate a webcam, and they are also widely available for one's desktop, there are many occasions when it would be useful to employ a camera for other tasks and not just using it to provide images of one's face for Skype. The HueHD Visualiser is a versatile unit that will handle a whole range of imagery tasks on the desktop in addition to being a useful webcam.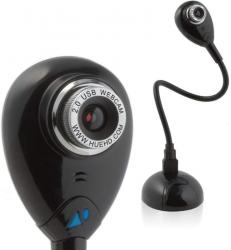 click image to enlarge
It is a small unit, just a bit smaller than the size of a mains plug, attached to a 30cm flexible stalk, which terminates with a USB connector. This can be plugged directly into a USB port on the computer or via the provided desk stand. A 1.75metre USB cable is supplied to connect the desk stand to the computer.
The visualiser has a 640 x 480 resolution and a viewing angle of 75 degrees and the focus range claimed is 5cm to infinity. Realistically, this means that it will provide sharp images from subjects ranging from small items placed on the desk below it through to a head and shoulders on Skype. In this latter context, while one would need to use the desk stand when using it with a tower computer, I found that plugging the camera's "stalk" directly into a laptop USB port was satisfactory.
In practice it took a few moments to get the knack of focussing. This is not likely to be a problem as, in general, one is not likely to have to change the focus too often. As well as there being video capture, still images can be saved in either jpg or bmp format just by pressing a button on the rear of the camera head. Even though it is difficult to prevent the head from moving when pressing this button, one can still get a satisfactory shot.
When using it as a visualiser, with the object placed on the table and the stalk bent over until the camera head is immediately over it, I found that it was easy to get a sharp image of items as small as 30 x 20mm. Even when the lighting was poor, so that the contrast was noticeably reduced, the resultant image was still readily readable and so, in the limit, it should be able to cope with shadows.
Bearing in mind its 640 x 480 resolution, I found that it was quite satisfactory for taking quick snapshots of small items as well as for presentations when, for example, one wants to give group demonstrations where otherwise everyone would have to crowd around the demonstrator.
The HueHD webcam, which is available from huehd.com in a choice of colours for £29.95, will fit conveniently into a pocket in one's laptop bag and so would be available whenever one needed to use it for Skype or as a visualiser when giving a presentation.