Hanns.G 24inch Panel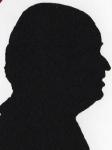 Small and light is not something that used to be applied to 24inch monitors or for that fact to early 24inch panels, however both can be applied to this offering from Hannspree the HL249 Hanns.G with LED Technology.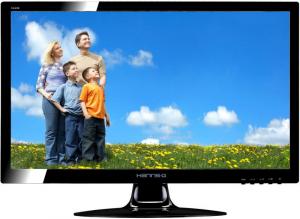 click image to enlarge
The first joy is a not very reflective screen although the screen surround is still a somewhat shiny black finish.
The screens dimensions are 55.5x35.5x2cm. It comes with a one screw base that is oval at 29x22cm and this raises the screen 6cm from your desk.
There are five buttons sitting just proud of the base near the right side these are there to make any adjustments needed.
Power input is just to the right of where the base fits onto the screen. To the left of this are 3.5mm socket to take audio in and then digital and analogue (VGA) connections complete the units controls all are under a slight lip.
The actual viewable screen is 52x29.5cm which gives the notional diagonal imperial measurement of 23.6 inches.
This is a full HD 1080P panel and the normal display is 1920x1080. Among the other abilities are 30million to 1 contrast ratio and a 5ms response time. The possible modes are PC, Game, Movie as well as a rather good ECO mode.
The unit does not have any side to side movement but as it is so light it is easy to turn it on its base as required.
There is forward and backward movement. The back movement is up to around 15% while the forward movement from vertical is around 5%.
There is a wide viewing angle up to around 20% from level or as it is more normally expressed around 160% from centre.
The first button allows you to change Brightness and Contrast if I say that the figure I normally used were 15 and 70 and add the possible figures were both 100 you begin to see the potential Brightness and Contrast that are available.
The system button gives volume and 90 (possible 100) was fine for a normal room with more being possible when you know my setting on the PC for speakers was only 67%.
It is also possible to adjust manually the on screen Horizontal and Vertical position of the display panel if you ever need to adjust them. The image setting by default is 'full' which I found fine for 1920x1080 display but 'Fit' is an option should you need it.
If I did not already have a perfectly good flat panel then I would certainly consider buying this offering from Hanns.G as it is light, easy to transport – one twist screw to remove the base – and gives a lovely image with stacks of spare adjustment for those movies that seem to delight in having such dark scenes that you have to normally rely on dialog to know what is going on. I used this as my main monitor for long days and the image was the same after ten hours use as it was when first switched on.
All in all this is a lovely panel and certainly worth a highly commended award. Doing my searches found it for £131.11 including delivery from the first link below.
http://www.amazon.co.uk/gp/product/B006VY7LVA?ie=UTF8&tag=gadge0a-21&linkCode=as2&camp=1634