Verbatim's mouse on the move

Verbatim's Go Mini Optical Travel Mouse is targeted at the traveller who is counting the grams and, at the same time, wants to keep things simple. It is a USB mouse with a spring-loaded 'wind-up' retractable cable that should suit the need of the busy person on the move.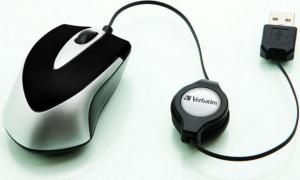 Although laptops and netbooks incorporate track pads, a great many people still prefer to use a mouse.However, if they want to take one along on their travels, they are faced with the extra weight, the space that it takes up and, all too often, a USB cable that gets itself into a knot. The Go Mini mouse addresses these issues as it is small in size having dimensions 150 x 42 x 29mm and weighing just 44 grams (less than 2 ounces). Furthermore, being a standard corded mouse, a user does not face the risk of flat batteries that can occur at any time with wireless mice.
Although the fully extended length of the slim and very flexible cable is over 75 cm (30 inches), and so the mouse is suitable for any size of laptop, one can just have as much extended as one needs so it is not likely to get entwined with any other cables.
The Go Mini is of a symmetrical design with two buttons and a scroll wheel and is suitable for both left- and right-hand use and, despite its small size, I found that it was comfortable to use between finger and thumb. After all, with something of this size it is obviously far too small to fit completely into the palm of one's hand. In normal use, when one could rest one's wrist on the desktop, I found that it is perfectly smooth in operation with its 1000 dpi resolution more than adequate for all practical purposes. However, when working in a confined space when one has difficulty supporting one's wrist, especially on a jolting and swaying train, I found that it was somewhat difficult to make precise movements -- but this would really apply to any mouse or trackpad.
According to Verbatim it works with Windows XP, Vista and 7 as well as Mac OS X 10.4 or higher. The pack that it comes in states that it has a USB 2.0 interface and is compatible with USB 3.0. This is to be expected as USB 3.0 is essentially backwards compatible.
These mice are ideal travel companions and are available in four colours: black, pink, orange and blue. They do the job, are small in size and light in weight. My only caveat is that it would have been nice is they came in some sort of bag but that would, no doubt, have put up the cost. Nevertheless, at a suggested retail price of only £6.99, they are good value for money.
http://www.verbatim-europe.co.uk/en_1/product_go-mini-optical-travel-mouse---black_35556.html