Samsung Notebook RC510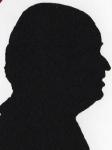 No shiny black, is the first thing most will notice about this latest Notebook from Samsung, if only there was not a reflective screen nothing would be shiny at all. So what does the RC510 have to offer once you start it up?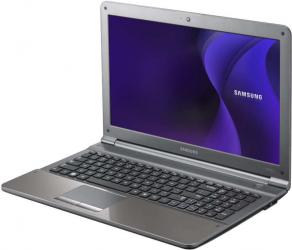 click image to enlarge
The Samsung Notebook RC510 measures 38x25x3cm and weights close to 2.5kilos.
The lid is matt black, as is the back, open the lid and the screen surround is grey, so is the area from the keyboard back, the area in front of the keyboard is shiny but in tiny silver and grey diamonds with the trackpad coated in a Teflon (dark grey) type substance and the only shiny bits are the two mouse keys that are chromed.
It has a 107 key keyboard which unlike some 15.6inch notebooks is comfortably within the sides by almost a key on both sides. The total depth for this is 10.5cm. There is close to 4cm behind the keyboard which has the speakers and the 'on' button which has a blue LED surrounding it when on. The 9cm area in front of the keyboard has the 9x5.3cm trackpad 11cm cm from the left and 18cm from the right side.
The left side has DC input, Ethernet, two USB ports, VGA, HDMI, two 3.5mm sockets for microphone and headphones and an SD card port. The front is clear as is the back apart from a Kensington lock port. The right side has the optical drive and two further USB ports. I was a little surprised that none of the USB ports were USB3.
This unit comes with 6GB (5.8GB usable) of memory Intel Core i3 M380 processor running at 2.53GHz and a 596GB hard disc.
The software is a 64bit version of Windows Home Premium, Microsoft Office 2010 Starter (Word and Excel), Two CyberLink programs their Media Suite and the excellent YouCam software, its amazing how many notebooks I see that all have built in Wed Cams (here it's a 1.3MHz one) but have no software to run it.
Samsung add a whole range of games suitable for all members of the family, and of course the normal Norton range of trial software for Internet security and Backup. There are also a range of Samsung applets included.
Running it on batteries with no screen restrictions using wireless Internet and optical drive use I got close to four hours.
Startup is 55 seconds from off (only a few seconds from sleep) and 15 seconds to a shutdown from Windows desktop.
The Windows Experience score is 4.5. This is made up of Processor 6.8, Memory 6.8, Graphics 4.5, Gaming Graphics 5.9 and Hard Disc 5.9 so unless Aero Graphics are your thing the reading is very close to 6, highest possible score is 8.
I used this not only for basic tests but also to test several other things that you see reviews of shortly and it handled everything without any problems. Unless you have the 64bit version of Windows as this does there is little point of having more than 3GB of RAM the 6GB here was the most in any system I have reviewed to date.
One of my main moans is fingermarks and while this still has them you do not see them simply because there is no shiny black.
The first link below has the same system available for £534.99 and offers free delivery.
http://www.amazon.co.uk/gp/product/B004UEP58Y?ie=UTF8&tag=gadge0a-21&linkCode=as2&camp=1634
http://www.samsung.com/uk/consumer/pc-peripherals/notebook-computers/performance/NP-RC510-S01UK/index.idx?pagetype=prd_detail