Asus Notebook N53J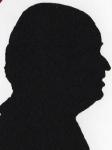 I first saw this when USB3 was very new, now a number of months later it still seems new. However the thing that stuck out for me then – and still does now when I finally got to review it – are the superb Bang & Olufsen speakers.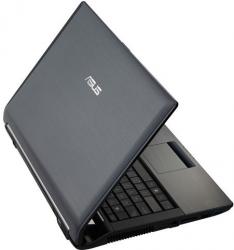 click image to enlarge
The Asus Notebook N53J measures 39.5x26x4cm and weights just on three kilos. It is not just a straight back meeting a straight keyboard as the area behind the keyboard is hollowed out and the area below the screen is slightly curved at the ends for the hinges.
The viewable screen is 34.5x18.5cm giving the diagonal imperial measurement of 15.6inches, the screen resolution is 1366x768. There is a rather nice webcam built into the top with an on/off switch to protect privacy.
The alpha and numeric keys are oversize at 1.6cm square but the gap between keys is only 2mm. It has a 101 key keyboard.
There is a 4.5cm area behind the keyboard to the hinges and this has six buttons and ten LED's. 2cm behind the keyboard the speakers start these are 4.5cm deep and spread the 33cm area between the hinges and under the shaped back.
The left side has HDMI out, Ethernet, multi card slot, e-Sata slot and a USB3 port. The front is clear apart from the four pin hole LED's. The right side has audio connections for headphones and microphone, two USB2 ports, Blu-ray drive and a slider switch to turn wireless on/off. Finally the rear has DC input, VGA and Kensington Lock port.
It comes with both Windows Home Premium and a quick load Linux front end for viewing photos, playing some games and Internet use.
Windows boot time is 60 seconds while shutdown is 22 seconds. The Linux front ends boot is 20 seconds and shutdown is 5 seconds. However I found that you needed to have an Ethernet connection for Web Browsing.
To enter the Linux front end use the button far left of the area behind the keyboard, for Windows use the button on the far right.
I found that four hours of use was just possible from a fully charged battery with wireless use. Recharge to full (when off) took just under two hours.
This unit was far from new when it arrived with me and someone had installed a Beta of IE9 which was not working correctly. Luckily there was also a version of Chrome so Internet activity was fine both Wireless and Ethernet.
There were a lot of Windows Updates due and it kept hanging after around seven of them so much so that after it automatically rolled back for the third time I had to turn them off. Sound through the inbuilt speakers was amazing as good as a lot of external speakers, certainly a big plus for this unit. Watching Blu-ray movies was also a joy especially with the extra quality and depth to the sound.
The processor is an Intel Core i5 2.4 to 2.93GHz turbo, nVidia Ge Force GT335M, 500GB hard disc (445GB spread over C and D available), 4GB of RAM and a 4xBlu-ray drive complete this units quite impressive specifications.
The overall Windows Experience is a rather strange 4.5. Processor is 6.8, Memory is 5.9, Graphics is the low mark of 4.5 with Gaming Graphics 6.2 and hard disk 5.9.
The Asus N53J is available from the link below for some reason my other searches failed to find this exact model.