Devolo DLAN 200 AVsmart+

Published Sep 7, 2010 Author
petew
Review controls
I've been a convert to HomePlug networking for quite some time now - it wins over Wireless in so many ways. Devolo have recently introduced a new range of adaptors adding some useful features.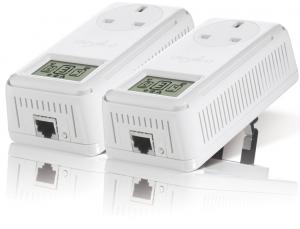 click image to enlarge
For those that don't know, HomePlug is a way of creating a wired network in your home (or small office). The DLAN 2000 AVsmart+ is the latest adaptor from Devolo and supports the faster 200Mbps data rate of the HomePlug AV standard. You can see other HomePlug products we've reviewed here. To recap , rather than string long pieces of wire around the place HomePlug instead sends the data over your mains electricity cables. Simply plug an adaptor into a wall socket and then connect a short Ethernet cable to your computer and you can talk to any other devices connected to other adapters.
There are some significant benefits to HomePlug over wireless. For a start you can cover much great distance - up to 300m betweens attachment points. Anyone that's tried getting a wireless signal from one end of the house to the other through a couple of walls will appreciate this! Another is ease of use - although more on this later.
The main distinguishing points of this product over previous incarnations are the addition of a small LCD status panel and a 13A mains socket. In the modern gadget-filled home it's not uncommon for there to be a shortage of 13A sockets and the need to dedicate one of them simply for a network connection may just not be feasible for some. This problem is solved by the Devolo dLAN 200 AVsmart+.
The recommendation is that you plug you're computer (or the network device that is using the LAN socket) into the mains socket. This allows the AVsmart+ to reduce it's power consumption by almost 60% when it detects that the attached device is switch off (you do switch off your PC at night don't you?)
The display itself I found less useful. There are three reasons for this. Firstly in the 3 years or so I've been using HomePlug, I've never had a problem, it just works. Plug it in and off you go. Because it's effectively a layer 1/2 device there's no addressing issues you have to resolve. A second issue is that for most people to see the display you have to crawl around on the floor - often underneath a desk.
Finally, I just didn't find the display very easy to understand. This is not particularly helped by a lack of clarity in the manual. The display shows the status of the device itself plus two attached devices. Here the manual suggests a total of 8 other connected devices can be displayed "by selecting Scroll". Unfortunately that's the only reference to scroll in the whole manual and the only button on the device I could find is for encryption.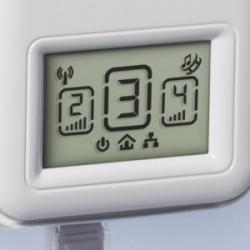 click image to enlarge
In theory someone could tap into your HomePlug network although they'd have to think you have something very valuable to go to all that trouble rather than just snoop your neighbours unencrypted Wifi network simply by sitting in their car. That said being cautious and encrypting everything can do no harm. In the case of HomePlug there are two ways to encrypt your traffic. The first, easiest and recommended is simply to use the encrypt button next to the RJ45 Ethernet socket. Carefully read the manual for this (section 4) because it's not quite as obvious as you might expect! The button can be used to: a) assign a random encryption key to a couple of devices and b) extended an existing encrypted network with new HomePlug devices.
The other way of building an encrypted network is to use the "dLAN Configuration Wizard" provided with the product. This is the route I initially took - but I can see no advantage of this approach and a number of disadvantages. With the software you can assign a known key (actually less safe than negotiating a random key) but there is no automatic way to send the key to devices using the configuration tool. The only device that can be configured is the directly attached adaptor. Unfortunately you are not told this until you've assigned the key to your current device and effectively detached yourself from the network.
The software does allow you to distribute a key across the network but requires you to enter a 16 letter serial number for each adaptor but the serial number is in very small type that requires you to remove the HomePlug from the wall to read (with a magnifying glass unless your eyes are particularly good).
As I had a server connected to one homeplug that I didn't want to loose it's connectivity I went back to using the "encryption" button to reset the key I'd upset with the tool.
A separate piece of software, the devolo Informer is good for getting a simple overview of all your active HomePlug devices (presumably only Devolo, although that's unclear). Once started the software scans your network for HomePlug devices and lists each with some information. The display depends on the products discovered and their firmware. The most useful information is the upstream and downstream speeds. If most of your devices are working at close to 200MBps and one is much slower take a look! Although it is recommended that homeplug devices be connected straight into a wall socket I've had no problem having them on an extension block.
As I've said before I'm a complete convert to HomePlug in preference to wireless networks. If you've not used HomePlug but either worry about the security, safety or range of WiFi then take a look. You can get the dLAN® 200 AVsmart+ Starter Kit (which I'm reviewing here) comprising 2 adaptors for £101.67 including free delivery direct from Amazon.