Rock Notebook Xtreme 840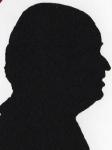 Review controls
Rock notebooks are built to order, so delivery time is normally around a week. Here I am looking at what would definitely be a top of the range unit, very powerful and rather expensive, it is all but £3000 and today that is not cheap.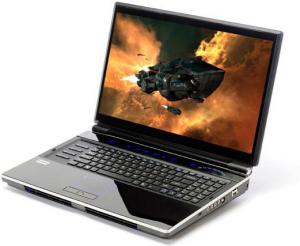 click image to enlarge
This is the first Windows 7 manufacturers system I have seen, and a 64bit version at that. However the only other software supplied on my unit was a copy of Cyber Link DVD Suite V8. I was told a trial of BullGuard A/V should have been supplied. I downloaded it (as I do not like going on the Internet without A/V software) firstly on another system and then when that gave an Error 102 – whatever that is – reluctantly downloaded it directly onto the Rock. I got the same error and was unable then to access the Internet until it was uninstalled.
The unit is 44x30x6.5cm and weights a mighty 5.6kilos so it definitely is a desktop replacement system. It comes with a decent case but I would be unhappy to lug it around on public transport and certainly not while walking.
It has a Blu-ray drive but the software provided does not allow you to play Blu-ray movies, surely this is totally wrong to give you a drive and while the software provided allows to copy files to a Blu-ray disk you cannot play Blu-ray movies. Luckily I have a copy of Cyber Link Power DVD 9 that soon installs and allows Blu-ray movies to play.
Looking at the unit it has the power input on the rear. The right side has a Digital output (no cable to convert this to VGA), two USB sockets, an HDMI socket, the Blu-ray/DVD Multi writer drive, card slot with rubber bung for SD/MS, Express Card slot and four pin Firewire port. The front has a large LED in the centre of large heat dissipation slots.
The right side has four audio slots, what looks like an aerial slot for TV card, but no adapter is supplied (so I never did find out if it had one) an external E-Sata port and a further USB port.
Open the lid and you reveal the 41x23cm screen (18inch diagonal measurement), there is a 95 key keyboard with all but the function keys being full sized and there is .4cm between each of the alpha numeric keys. There is a 5cm wide space to the left of the keyboard with four bar keys marked G1-G8 and then a further 1.5cm before the edge of the case.
There are twelve LED's in a 4cm area behind the keyboard and towards the right side a touch semi circle to raise or lower the volume. There is an 11cm area in front of the keyboard with the trackpad mounted 16cm from the left and 20cm from the right. The trackpad itself is 8x5cm; there is a 1cm space in front of the trackpad before the mouse buttons (8x1.5cm) with a fingerprint scanner mounted in the middle of it.
The speakers seem to be on the hinge area of the screen and the top of the screen has twin pin hole microphones with a web cam mounted in between.
Boot up time is an unremarkable 80 seconds and shutdown is a far more acceptable 9 seconds.
The processor is an Intel Core 2 X9100 3.06GHz, it has 4GB of memory the graphics are NVIDIA GeForce GTX 280M, the hard disc is 931GB with just under 5GB being the restore partition. The overall Windows Experience is 5.9. Processor is 6.6, RAM is 6.6, Graphics are 6.8 as are Gaming Graphics with the hard disc at 5.9.
I can see it being suitable for a gamer (he/she would need to be successful to be able to afford it) not having even a trial of say Microsoft Office is a big down point, but for me the unforgivable thing is to provide a Blu-ray drive but not to provide any software capable of playing Blu-ray movies.
Doing my Internet searches found the Rock Xtream 840 - this is their top of the range model that starts at £1699 - at a best price of £2999 and remember they are made to order.
http://www.rockdirect.com/viewNotebook.php?pName=XTREME 840