Rapier V1 laser gaming mouse from Verbatim

Published Nov 29, 2008 Author
petew
Review controls
A game aimed specifically at the gaming market, but that also works well in 'normal' applications the Verbatim Rapier V1 contains no less than nine buttons.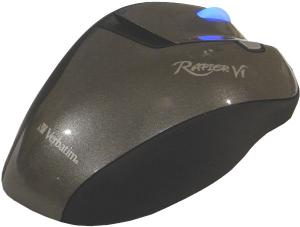 A mouse is a mouse is a mouse - well, not quite. I'm sure many people have had at one time or another to use a very cheap optical mouse. This was possibly included "free" with your last computer. Even more expensive devices can have a few niggles.
Verbatim have thought long and hard about their latest entrant to this already busy sector. First the feel. For doing any accurate movement with a mouse, for example in a stragety game or even when simply tweaking your latest photos, it's vitally important the mouse doesn't stick and that the option sensor correctly detects motion. The Rapier helps with sticking through the provision of four teflon feet. Coupled with general feel is the weight of the device, and for mice light is not always good. Five small weights in the base, each 4.5g allow you to vary the weight to your preference by up to 22.5g. You may even like to vary the weight depending on your game.
The body itself is molded to cater for natural resting places for your fingers (which makes this a right-hand mouse only!). Your index finger rests in the centre of the primary button with, unusually, the mouse wheel to the left of your finger. This was initially slightly un-natural, but I soon adjusted my habits.
A generous 2m cable connects to even the most inaccessible power gaming machine via a gold-plated USB connector.
As well as the standard mouse buttons and wheel the Rapier V1 has the following additions :
A 'triple-click' button top-mounted between the two main buttons for games that make use of that function
An 'IE back' and 'IE forward' button for easy web-navigation. I'm not sure why these are called 'IE' - they work equally well in Firefox and probably other browsers
A 'mode' switch that selects between 'game' and 'standard' mode. A red light on the devices indicates the current mode
A toggle control that allows sensitivity to be selected between 800 to 3200dpi (dots per inch) in four steps
In 'standard' mode the mouse behaves like your usual rodent, albeit with seven usable buttons. In game mode separate specific functions can be assigned to specific buttons. These configurations are stored in the mouse itself, not on your computer. Buttons are configured via an application provided with the Rapier and a range of options are available. As well the obvious navigation functions buttons can be assigned simple keyboard sequences - useful for oft-repeated commands in strategy games. Other prepared options including assigning media-player functions.
The most powerful operation allows you to assign a script to a button. A script allows you to replay a whole sequence of mouse movement and keyboard commands. The provided software allows you to 'write' these scripts, although how you do this isn't completely straightforward and takes some practice. I feel the manual could well have provided more detail in this area.
Included with the Verbatim Rapier V1 mouse is a carry case, a smaller case in which to keep spare weights, a CD-ROM and a 'quick start guide' that really just tells you to insert the CD. The full manual is only provided in soft-form on the CD and comprises 10 pages. I little more detail in the manual on some of the more complex areas would have been appreciated.
The V1 performed very well indeed, even in standard mode as a mouse being used for image manipulation. For ardent gamers it has a good range of additional attractions. Retail price should be around £24.99, although a quick search failed to locate anyone currently stocking this new product.