Webcam and Fan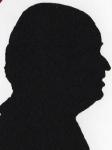 Yes now with this rather good quality webcam and microphone on a stand you also get an electronic fan to keep you cool while you have your video conversations. You can of course use either one individually.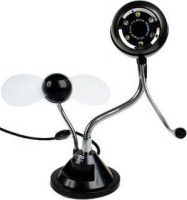 It looks rather futuristic on its chromed articulated arms that can be bent to whatever position you require. The camera can be as much as 18cm from the base. While the microphone that emerges on its own chromed articulated lead from the base of the camera and is 12cm. Yet another chromed articulated lead emerges from the base and this is 12cm with the fan on its end there is a small push button to operate the fan on the base.
The base is 6.5cm across and has a suction cup underneath to help with balance, however with the camera fully extended this is only just adequate, certainly with a bend in the articulated lead it becomes more stable.
The microphone relies on a standard 3.5mm lead, surely these days using the USB connection for both video and audio would be more useful and of course that is one less lead required.
Should you be working in poor light there are six LED's around the camera that allow you to be lighted better. A scroll wheel at the start of the USB lead allows these to be lessened or even turned off as required.
The camera itself is in an eye shape 6x5.5x6cm, I tried it on both XP and Vista systems and neither needed any external driver, Windows just installed everything from its own store. You now have something called a 'USB Video Device' as an entry in 'My Computer' and double clicking on it opens a Video Devices Window with the normal File-Edit-View-etc drop down lists. Assuming the camera is pointing at you then you should be seeing yourself on the screen. On my 20 inch panel it shows by default as 15x11cm but if you maximise it then it shows as 16x12cm.
The images it takes seem to be better than most of this sort of camera and the ring round the lens claims it is a magapixel (that's what it says) I am assuming that is poor translation and it should be megapixel. Viewing the properties says it's a 640x480 image that varies between 15 and 30k according to the content.
There is a mini CD included and a piece of software worth including is PC-Eye 3. There are no instructions but the six applets all seem to work. The home screen will mean little unless you understand Chinese but hover the mouse over each choice and you get an explanation in English.
The six applets are Photo Greeting Cards, Photo EZ, Photo Special Effects, Video Monitor, Video Manager and Video Games. There are instructions in English when you delve into the install folder.
These six icons sit in two columns of three below the Window showing whatever the camera is looking at. This can be in 640x480, 320x240 or 160x120 according to what you set in the top left corner of the window. Below this is a column of saved images and below that are buttons that let you scan both forward and back through images taken in this session. To the right of the screen are two further applets Net Meeting and Video E-Mail. There is also a button top right that allows you adjust other things like Brightness and Contrast of any image you are viewing on the screen.
I managed to use all the applets apart from the Video Games where nothing I did seemed to make sense. I am sure it is linked in some way to the camera but you are meant to control via hand movements. However the other applets all worked, while these features are all available in greater or lesser amounts via other programs you may or may not have here they are all provided on the mini CD for FREE.
Several of the applets increase the image to full screen but by then (on my 20inch panel anyway) there is pixcelization. If you can anchor the base a little better - maybe add some extra weight - then this could be a decent webcam. It should also work for Skype and MSN Messenger etc to allow you to not only talk but see each other also.
Available from the link below at $23US plus $3US for delivery anywhere in the world, this works out at around £17.50 at current exchange rates.