Microsoft Mouse and USB DVD-RW drive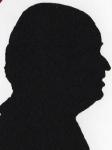 Another pair of items that have been used together with the Space Station and USB light reviewed a few days ago. First the Microsoft Wireless Notebook Laser Mouse and second a very neat and compact DVD-RW USB2 drive that will work with any PC or notebook.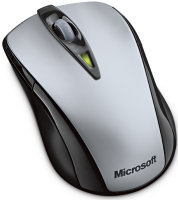 Microsoft Wireless Notebook Laser Mouse 7000
For anyone who dislikes trackpads then an external mouse with a notebook is the answer. Having a wireless mouse means that the limited space often associated with notebooks can be utilised better if the mouse does not have to operate in a specific place and not having a certain length of cable helps.
This offering has a USB receiver that looks almost identical to a USB pen/stick drive. The mouse itself is powered by a single 'AA' battery (provided) It is 10cm long a maximum of 5.5cm wide and 3.5cm tall. It is black with a silver grey top.
Once paired it will work without any further effort. However should you wish there are extra features and abilities once you have installed the software provided (around 100MB of hard disc space). It is stated to work with Windows 2000, Windows XP and Windows Vista. Should you have a MAC it will work with OS X and you will need around 20MB or hard disc space.
I found the pairing straightforward and the mouse easy to use. There are no specific left and right buttons but the general area in the places they would be can be depressed. The scroll wheel has the more modern four way action but until the software is installed it works as a scroll wheel.
Doing my Internet searches found a huge difference in the prices the cheapest link below is £27.32 including UK shipping :
http://www.amazon.co.uk/gp/product/B000TSP2E2
http://www.microsoft.com/hardware/mouseandkeyboard/productdetails.aspx?pid=097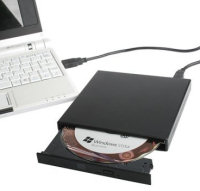 USB Slim Portable Optical Drive DVD-RW
In the short time I have had this drive it has not only been attached to my notebook (see yesterdays review) but also to my desktop system when my internal CD/DVD had a fit and decided not to read any CD's.
It is black and 13.5cm wide and deep and a tad over 1.5cm tall. It weights just 300grams and has four tiny rubber feet so it will sit securely.
The front has a tiny LED that lights when in use and a push button to eject the CD/DVD. The rear has two sockets for the two leads supplied one the standard USB lead and the other a power lead going to a USB lead. In my tests I found only with one notebook did I need the power lead on all other tests the power from the USB was enough.
A mini CD is provided and it has drivers for some early versions of Windows. Under XP and Vista no driver is required as all the files required are already installed.
A copy of Nero 6 is provided for your CD and DVD burning should you not have any suitable software. Remember if your burning software came with your drive it is probable that it will only work with that drive so you could well be grateful for the copy of Nero supplied here.
This is another item supplied by Brando and remember they have a flat rate shipping charge of $3 US no mater what the size of your order. Their drive is priced at $78 US so with shipping that's just over £40 at the current US dollar rate
http://usb.brando.com.hk/prod_detail.php?prod_id=00429