Aspire with Gemstone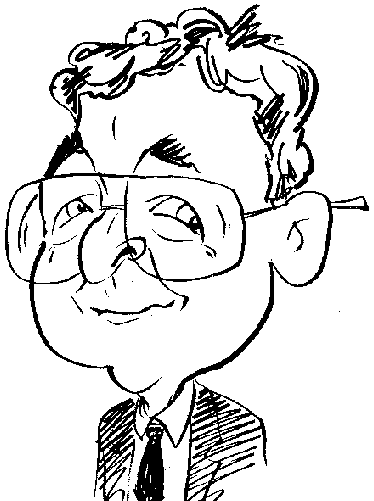 Combining natural shapes with technological innovation, Acer's latest Aspire notebook offers itself for review.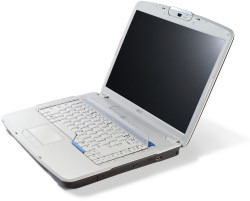 Assigned the role of the Aspire flagship product is the Acer Aspire 5920 laptop. This model features the new design concept produced by BMW Designworks, entitled Gemstone, aimed at adding more than a touch of style to Acer's normal combination of power, usability, performance, with an aggressive price point. Lets consider first the various aspects of the Gemstone approach.
Although not doing away with the basic rectangular shape we have all become familiar with, this Aspire laptop features curved corners giving it an almost oval appearance that does tend to grow on you. I am not quite so sure about the highly polished reflective, black pearlescent casing. It does tend to show up more than a fair share of finger marks. However I did like the release catch, larger than normal, which houses a webcam feature when the laptop is in use. Before leaving the outside of the device I should mention the luminous blue light, clearly visible at the rear of the laptop, that indicates that mains power is connected. This light also appears, in an "L" shape when the lid is raised and the laptop is connected to the mains.
In marked contrast to the reflective black casing, you are faced with a light grey or beige coloured ceramic-type keyboard and surrounds when raising the lid. The effect is not too bad. A fairly standard keyboard layout (US in the case of the review unit) has additional controls for handling multimedia and activities, such as email, Internet, wireless and Bluetooth, mounted on the right and left sides respectively. The various keys are responsive and you can even adjust the sensitivity of those used for multimedia purposes by making use of the Acer MediaTouch software located in Control Panel.
The Aspire 5920 features a 15.4-inch screen with a maximum resolution of 1280 x 800 pixels. Image quality is fine as long as you stay out of bright sunlight conditions (hardly too much of an imposition judging by last summer) when the CrystalBrite coating reflective quality can interfere your viewing pleasure. Situated above the screen is CrystalEye 0.3 mega-pixel webcam with a maximum resolution of 640 x 480. This webcam, with the additional of appropriate equipment, can be used for video conferencing and can also capture still images but not video clips.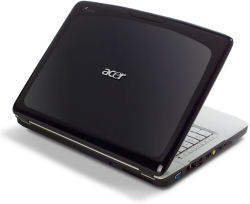 Checking out the various ports and sockets around the body of the Aspire 5920 reveals that you get a number of options. Having sole occupation at the rear is a power socket. Among the items located along the left side are an ExpressCard slot; three USB 2.0 ports; IEEE 1394 port; external VGA display port; Ethernet jack; and modem port. The front of the unit concentrates on multimedia connections and volume wheel plus an infrared port. A DVD multi-recorder drive is positioned on the right side next to another USB 2.0 port. The close proximity of these two items does mean that you should avoid inserting a bulky USB flask stick into this port as it could stop the DVD drive from opening.
Delving under the hood reveals that the Aspire 5920 uses the Intel Santa Rosa technology based on the Intel Centrino 2 Duo 2.0GHz CPU with 800MHz Front Side Bus supported by 2GB of DDR2 memory. Graphics falls under the control of the Nvidia GeForce 8600GT controller that has its own 250MB of dedicated memory which it can supplement with up to 512MB of system memory when the need calls for it. A Realtek audio chip with Dolby Home Theatre certification, including support for Dolby Digital, Dolby Live, Pro Logic II, Headphone and Virtual Speaker technologies taking care of audio issues.
Storage capacity is handled by a 160GB hard drive. There is also support for Intel Turbo Memory plus the 5-in-1 card reader covering SD, MMC, MS, MS PRO and xD formats.
Battery life is reasonable, if not exactly outstanding, with this model. For general use I managed just over 5 hours or power; audio playback reduced this time to 4 hours 40 minutes; while playing DVD videos gave me 2 hours 10 minutes. Recharging took 1 hour 46 minutes.
As is its standard policy, Acer supplies various software items with this laptop. Along with various Acer branded titles such as Acer Arcade Deluxe, Acer GridVista and Acer CrystalEye, you get Norton Internet Security, Cyberlink PowerProduced and NTI CD-Maker. The review unit came with Windows Vista Ultimate pre-installed. Acer has priced this model at £799.99.