Evesham Voyager C515SR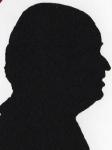 Review controls
Evesham is one of the more popular makes of notebook. Here I am looking at what probably qualifies as a mid range offering but it still manages to support Windows Vista Premium.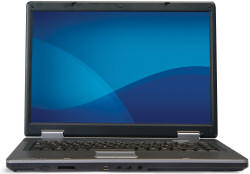 First the all important dimensions it is 35x25x4cm and weights around 2.7kilos. It is traditional black apart from the silver-grey lid. It has surprisingly few ports, the rear has 2xUSB2 ports and the power brick input. The right side has 2xUSB2 ports and the DVD multi recorder. The front has microphone, earbud and SPDIF sockets and a card port (SD and MS). The left side has PCMCIA slot, Ethernet and modem ports as well as external monitor port. That's it, these days it's probably enough unless you still need legacy ports such as serial and parallel, perhaps a FireWire port would have been nice.
The screen is 21x33cm giving the diagonal 15.4inch measurement. It has an key keyboard with only the function keys being reduced size. It comes with a Centrino Duo 1.8GHz processor. This comes with 2MB cache and has an 800MHz front side bus. The hard disc is stated as 80GB in the adverts but the one sent to me was 68.6GB, it is a SATA 5400rpm unit. It has 1GB DDR 667MHz RAM which is really the base for running Vista. I found the fact it could run the Glass engine interesting as it only has 8MB of dedicated video ram the rest coming as required from the remaining 1014MB from the 1GB.
Those who know Vista will be aware that all machines are rated. The processor rates 4.8, the memory 4.5, gaming graphics 3.5, primary hard disc 4.9 and the graphics at 3.4. The lowest figure is always given as the score. I reran the process a couple of times (only possible when on mains power) and the graphics crept up to 3.5.
I called this a mid range notebook but really most notebooks sold at £299-£399 will only have Vista basic as they cannot cope with the Glass engine. I ran a range of items including running DVD editing and transfer software without any problems. Of course I felt compelled to watch several DVD's and was quite happy with them.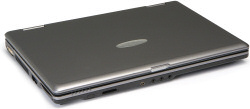 Battery life is stated as 'up to 3 hours approx' well I got around 150 minutes and certainly a full DVD is possible. I do not turn myself blind by reducing the screen contrast/brightness to a few candle power and expect to view a notebook on battery at more or less the same brightness/contrast as on mains power.
Apart from Vista it has a 90 day version of Bullguard and a copy of Roxio Creator 9XE. Certainly unless this is going to be your first notebook you are unlikely to want rafts of software especially the 30-60-90 day trial products. The Bullguard is essential so that you can browse the Internet safely while you decide if to renew the licence or go to your favourite Anti Virus product.
The screen has a native mode of 1280x800 and is widescreen. I was happy with both the colour and the brightness with the supplied default settings, on battery the settings were a little lower but still not what some describe as power saving mode that really dim the screen.
I am still quite new to Vista but found the notebook useable and during my test period it did everything I asked. It comes with a 3 year silver warranty.
The stated price from the link below is £669 including VAT and that for a Windows Vista Home Premium notebook seems reasonable. Looking at the link below it is shown as £569 ex VAT and I see you have the option of having Windows Vista Business if you prefer it, Works 8.5 is also stated as included (not on my system) and more interesting you can have 2GB of memory for only £46.80 extra (remember to add VAT to that). All Evesham systems are built to order and that's around nine working days. With their recent problems it is probably to check if this building timescale still exists and it is always safest to pay by credit card.
http://www.evesham.com/products/info.asp?e=E6F66CBC-94DA-4622-BEC6-7921EDDCB33C