Sebo Automatic X4 Pet Vacuum Cleaner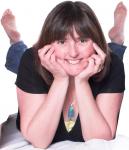 It's a relief to find a vacuum cleaner that relies on how well it does it the job more than trendy looks. The Sebo Automatic X4 Pet is a high technology vacuum cleaner designed for pet owners and allergy sufferers. It's ppowerful 1300-watt motor, sealable filter bags and filtration system has earnt it the British Allergy Foundation Seal of Approval.


click image to enlarge
I'm afraid to say I had not heard of SEBO vacuum cleaners, even though they've been around for 25 years, until they sent me the SEBO X4 Pet. However, I'd now say it's a name to look out for.
Here we have a vacuum cleaner, designed for pet owners and allergy sufferers, with a very traditional look. But don't let that point you off. Unlike the popular bagless vacuum cleaners, you can't see the technology, but then again you also don't have to look at the dirt! Because it doesn't look quite so trendy as other machines out there it could be easy to miss all the fantastic technology under the bonnet including it's patented filtration system and automatic brush adjustment for different floor surfaces.
The SEBO X4 Pet has been designed to combat pet hair and dust through a combination of a powerful 1300-watt high-performance motor and SEBO's patented multi-layer, sealable filter bags. The S-Class filtration system captures fine dust particles so they stay trapped inside the machine. SEBO tell me their X range has the highest level of filtration possible for which they have earnt the British Allergy Foundation Seal of Approval. The filtration system also uses activated carbon to minimise odour.
I really liked this cleaner. Although it looks decidedly like older vacuum cleaners, it does a fantastic job of the cleaning. The proof of the pudding for me was my teenager's room. I actually discovered the colour of the carpet after using the SEBO vacuum. Now that has to be applauded. It appeared to give the carpet a deep clean, with powerful suction, even though it uses - dare I say it - a BAG - to collect the dirt.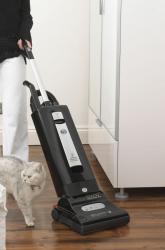 click image to enlarge
I found the SEBO incredibly easy to manoeuvre. For a slightly heavy cleaner it pulled itself along nicely across both carpet and hard floors. The SEBO has an on-board computer system which automatically raises and lowers the brush height in response to the floor surface. A display on the brush head power unit shows you when the height is changing. The display also lets you know when the head needs cleaning and when the bag is full.
The SEBO comes with a wide range of attachments including a wall and floor brush, turbo brush for stairs, radiator brush, upholstery nozzle and extension hose. Only the three most used attachments have a place to live on the cleaner itself - but I don't really see this as a problem. The attachment hose is housed in the body of the cleaner and is easy to lift out and use. I was a little disappointed that the attachment hose wasn't long enough to get to the top of the stairs though. On the plus side though it has a nice long lead - which means you won't be switching plugs every few minutes.
A question I thought might be on consumers' minds is what is the difference between bag and bagless technology. SEBO responded: "The SEBO X4 Pet is not a 'traditional' bag cleaner. With computer controlled height adjustment, a multi-layer bag and microfilter which runs down the side of the bag, it represents the latest vacuum cleaner technology and means that you don't have to choose between performance and hygiene, because SEBO machines offer both, unlike a bagless machine."
I found the Sebo Automatic X4 Pet for £261.61, including shipping from Amazon :
http://www.amazon.co.uk/gp/product/B0019QNHQ8?ie=UTF8&tag=gadge0a-21&linkCode=as2
or £279 from John Lewis, but that includes a 5 year gaurantee :
http://www.johnlewis.com/230509389/Product.aspx
For further information or other stockists contact SEBO on 01494 465533 or visit their website :