Garmin Forerunner 15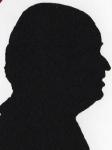 Review controls
This is a watch with the ability to count your steps and even with the aid of the chest strap provided also check your heart rate during exercise. So apart from using satellite technology why has this company diversified into this area.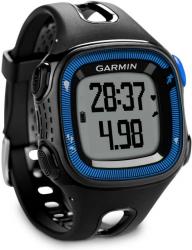 click image to enlarge
If your car has a Sat Nav it is quite likely that it could be a Garmin. These days this market is contracting as most recent Smart Phones can offer this feature so other markets have to be tested.
While I was happy to test this device my first question is why use the chest band to get heart rate when these can cause chafing when worn for extended periods. I have reviewed other devices that fit into watches and while they give pulse rate rather heart rate there is no chafing possibility.
As a watch it uses satellite technology to set the time and its battery is charged by a clip on sleeve that has a USB lead attached so it charges from any USB port or even a wall socket. The USB connection is used to transfer data and while low power Bluetooth might be easier this tends to only work correctly on some Apple devices.
The software is quite clever but you will certainly need to use it for a while to understand how it works as while the provided 12 page Quite Start Manual outlines the use of the four buttons on the watch that set the various modes the online software is not covered.
Having four buttons on a watch means you need to know what does what and of course this can change according to where you are in the watches software.
The watches display is slightly oval but the display is close 2x2cm. The watch is around 1.6cm thick and has a fitted plastic strap. The upper area shows the current time in characters around .6cm tall. While the default for the lower line when walking is the number of paces you have walked you can also show miles covered, your daily goal, calories burnt or the date.
A number of icons can be shown around the edges according to the mode. The lower part of the screen will show the number of steps completed when in 'walking mode' this can be set to on/off. A solid line also shows with the amount towards your daily total being solid.
The number of steps tends to update every minute and I found that a normal brisk walking pace I do 120 steps a minute when not having to avoid others as you so often do on a busy street.
My day is sometimes one at home working when I do not tend to wear a watch, however some days I am out and about and this normally involves walking to the station (around 1/5 of my daily steps) getting to a destination that often involves some more walking and other transport and then a period of no activity and it is quite shock that after 30 minutes of no activity the lower part of the watches display changes to 'Move!'
At my age I tend not to run but this watch copes with that and other strenuous activity.
Updating to your Garmin account of the latest data is very quick in fact so quick that the first few times I did not believe it and checked the figures on display online but they were correct.
Even if you do not own a Garmin device you can use their software and there is a better manual available online. The online interface is available is 22 languages.
I see that the watch is available without the heart rate strap for £30 less. Mine was black but there are a range of colours available.
The Garmin Forerunner 15 is available from the first link below for £169 with free delivery.
http://www.amazon.co.uk/gp/product/B00K2T5JEG?ie=UTF8&tag=gadge0a-21&linkCode=as2&camp=1634