Trainers and Laptop Bag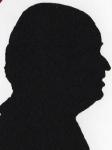 Like most men I spend a lot of time in trainers for one reason only, they are comfortable, these however are rather different. Like most there are occasions that a notebook needs to travel with me and this bag from STM is also a little different.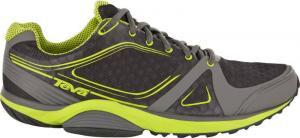 click image to enlarge
KSO TrekSport
These trainers are described as multi terrain shoes. They are trainers to look at but the sole is tricker and gives added support to all parts of the foot. I looked through all my trainers – old and new – and could not find one pair with a sole configuration anything like these.
To begin with there is a slight heel, then the sole from the toe back is thicker and the really unusual bit is that there is support on either side in the mid sole area. So the whole foot is better supported but they are still very comfortable.
I told the PR person that I am a size 10 but was sent a pair described as a 'S11' which I assume means small 11 but the fit was perfect.
The nearest I get to trekking is a walk round my local boot fair and while there are a few grassy banks nothing worse than that. The range of colours is comprehensive but I am glad to say I was sent a pair subtle enough for me to wear round a couple of trade shows where I would normally have to resort to wearing shoes, even after a long day my feet were still comfortable when wearing the Trek Sport shoes.
The added support to each side under the foot arch means that stairs – both up and down – are a lot more comfortable. I also noticed with the thicker sole that the bobbles you get on stations near the edge of the platform – placed there to help the blind or partially sighted – are less feelable under the feet which in thin soled shoes can be like walking on a beach.
So the layout of the sole is a 9x7cm area at the heel, the toe area to around 15cm is in a grippy area a bit like a tyre tread with the extra side bits around 7x3cm either side at the central area of the sole the material is called Vibram. While my test did not occur when there was ice on the ground I feel that you would also get extra grip in those conditions.
The KSO TrekSport are available from the link below for £90
http://www.teva.co.uk/mens-tevasphere-speed-outdoor-trainer/1002260,en_GB,pd.html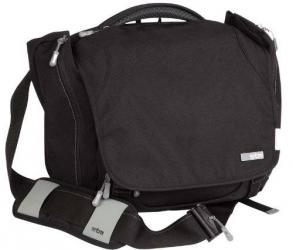 click image to enlarge
STM Velo 2 Medium
This laptop bag should be suitable for most 15inch laptops. Its empty weight is 1.2kilos.
Normally the shoulder strap has two anchor points close to the top edges of the bag. Here the anchor points are 10cm down the sides and they start even further down than that making the bag far more stable.
It is 41x32x15cm. The back has a 38cm open pocket at the side. The top a nicely padded 20cm long handle, so even the heaviest contents can be carried happily in the hand.
The front has a flap that is adjusted by two 2.5cm wide straps that adjust to 30cm and this when fully adjusted gives access to three zipped pockets, the lowest a single zip at 25cm wide and the other two higher up at 30cm each controlled by a double zip, reclose the straps and you would not know the pockets are there. At the top of the cover is 17cm zip to give access to a 15cm deep pocket for small items.
The padded interior is controlled by a 30cm zip down the left side to allow your laptop to be inserted or extracted.
There are other straps and zips whose purpose is to expand this capacious bag more fully. Finally there is a waist strap to fully secure you to your laptop for those longer journeys where you need to stay together.
Mine was a mid-blue as in the link below but I see it is also available in grey or black. While I would not recommend dropping it there is a very good chance that your laptop when securely positioned in it will survive without damage and after all that is what it is designed to do.
The Velo 2 Medium is available for £68.98 with free delivery from the first link below.
http://www.amazon.co.uk/gp/product/B00BHHBM9S?ie=UTF8&tag=gadge0a-21&linkCode=as2&camp=1634
http://www.stmbags.com.au/catalog/new-laptop-bags/velo2-medium-laptop-shoulder-bag/